A Review

Documenting History
By R. J. Donovan
Diehard theater fans will be fascinated by "Broadway: The Golden Age" -- a new documentary that's being shown (in a very limited run) in movie theaters.
While films can be preserved, live stage performances live on only in the memory. And that's what "Broadway: The Golden Age" is all about -- memories.
With a mission to document an era before the folks who created it were gone, award winning producer-director-writer Rick McKay spent five years tracking hundreds of Broadway's most famous faces to talk about their lives, their careers and the golden days of The Great White Way.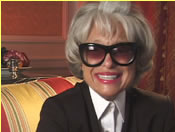 What he wound up with is an amazing collection of interviews with legends ranging from Angela Lansbury and Carol Channing (left) to John Raitt, Farley Granger, Kim Hunter, Betty Garrett, Jerry Herman, Chita Rivera, Jeremy Irons, Rex Reed, Elizabeth Ashley, Arthur Laurents, Eli Wallach, Mimi Hines, Patricia Neal, Barbara Cook, Ben Gazarra, Elaine Stritch, Shirley Maclaine, Julie Harris, Jane Powell, Jerry Orbach, Gwen Verdon and Uta Hagen, among others.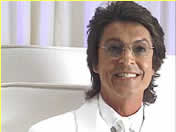 The one interview that's unintentionally comical comes via the footage of Tommy Tune (left) -- who sits in a glowing white suit surrounded by nothing but glowing white furniture and objects. Kind of like what St. Peter would look like at the Pearly Gates -- if he were a choreographer.
McKay's jumping off point is his own small-town Indiana childhood, captivated first by film and then by theater, eagerly soaking up as much information as possible about the business and longing to hit New York and experience it all first hand. And that's how the film is bookended -- McKay beginning and ending a journey to learn about an era he missed. An era when every theater on Broadway was lit with product from the biggest stars and most renowned writers. And so he talks to the greats, near-greats and not-so-greats who basked in the applause of Broadway.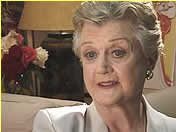 The documentary is invaluable in that it captures the thoughts and memories of some true legends. The bonus is a collection of film clips, most of which have never been seen before. Archival footage of numerous productions is shared, along with home movies from the private collections of entertainers like Ann Miller and Angela Lansbury (left).
There are stories of infuriating out of town tryouts (with Boston prominently featured) along with tales of ego, talent and scrappy understudies who went on to save the show.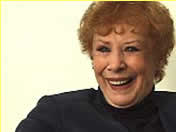 In particular, Gwen Verdon (left) gives special insight into her work with Bob Fosse creating what would become "Damn Yankees." Stephen Sondheim bemoans the tedious tradition that has soured standing ovations into something the audience HAS to give. John Raitt remembers auditioning for "Carousel." Angela Lansbury tells how Jerry Herman fought for her to play the title role in "Mame," going so far as to secretly sneak into the orchestra pit to play for her audition. And several performers recall the days when summer stock meant Broadway on tour while others argue about the value of revivals.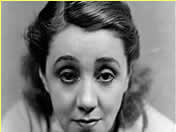 What many theater fans may never have seen is footage of Laurette Taylor. Sadly forgotten by popular culture and theatrical history, she is said to have inspired more stage careers than any other single performer. While she amazed Broadway audiences, none of her stage performances were ever captured on film and unlike many other stars of the day, she never had a career in Hollywood. However, McKay has unearthed a screen test she made, which actually worked against her. Hollywood producers foolishly dismissed her because they thought she couldn't act. She was too natural and too much like anyone off the street -- innate talents that made her a treasured phenomenon on Broadway.
On the minus side, what "Broadway: The Golden Age" could use is a sharper organizational sense. The interviews are grouped in clusters that sometimes seem awkward. And the documentary took so many years to complete that many of the interview subjects are deceased (one by at least four years). This probably has to be expected considering the age of some of the people involved, but it still gives the film an odd patina.
There is also an unavoidable tinge of sadness as some of the entertainers appear very old and frail on camera. The comparison is stark when we see images of these great talents in their prime.
Finally, in the last few minutes of the film, the tone momentarily shifts to one of bitterness as the performers grouse about how today's theater can't live up to what it was in their day. Clearly, the comments are from the heart, but it creates a forlorn "when I was a boy" kind of sourness. People have been complaining about the demise of the theater for decades. And despite the diagnosis, The Amazing Invalid continues on, changing and morphing with new people and new ideas.
In the end, "Broadway: The Golden Age" is a two hour tribute that will be of great interest to true theater aficionados, primarily because of the stars involved and the rare clips shown. The casual fan, however, may not find it holds their attention. Which is one reason the film has received such select distribution.
Produced and marketed on a shoestring, this one-man labor of love is slowly making its way across America, one screen at a time. Locally, "Broadway: The Golden Age" started off at the Kendall Square Cinema for a quick run Then it moved to the West Newton Cinema (where I caught it). A list of local showings is below.
In comparison to "Broadway's Lost Treasures I and II" currently making the pledge rounds on PBS, "Broadway: The Golden Age" has no glitzy, professionally shot stage footage. On the other hand, "Broadway's Lost Treasures" doesn't have the invaluable personal stories of the people who stood on stage and made magic happen.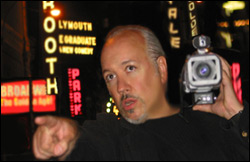 Interestingly, McKay (left) is already working on a sequel called "Broadway: The Next Generation" featuring, among others, Alec Baldwin, Betty Buckley, Alan Cumming, Daisy Eagan, Tovah Feldshuh, Bonnie Franklin, Joanna Gleason, Ruthie Henshall, Cherry Jones, Cameron Mackintosh, Audra McDonald, Amanda Plummer, Lee Roy Reams, Ann Reinking, Liev Schrieber, Douglas Sills and Wendy Wasserstein.
McKay hopes to bring "Broadway: The Golden Age" to television. He also wants to release it on home video and DVD -- where it would make great holiday gifts for the theater fan on your list.
Upcoming showings of "Broadway: The Golden Age" include the following:
WEST NEWTON: at the West Newton Cinema through 8/26
DENNIS: Opening at the Cape Theatre on 9/12
NORTH FALMOUTH: Opening at the Nickelodeon on 9/3
GREAT BARRINGTON: Opening at the Triplex on 9/3
BEVERLY: Opening at Cabot Street on 9/10
WORCESTER: Opening at the Bijou on 9/10
For updated listings, check www.broadwaythemovie.com
-- OnStage Boston
8/16/04