The Huntington Theatre Company has announced the addition of "Trumbo" to its 2004-2005 Season. Tony-Award winner Brian Dennehy will perform in the Off-Broadway hit at the Theatre Pavilion at the Boston Center for the Arts from February 8 - 27, 2005. Peter Askin will direct the production.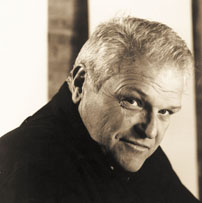 Dennehy has previously appeared in Boston in critically acclaimed productions of "The Exonerated" and Arthur Miller's "Death of A Salesman."
Called "thrilling, ferocious and hilarious" by The New York Times and "evocative" by The New Yorker, "Trumbo" is the story of a spirited American who took on Congress, Hollywood and a fearful nation, and won.
The legendary author of "Spartacus," "Roman Holiday," "Exodus," "Papillon" and "Johnny Got his Gun," Dalton Trumbo was at the top of his game, when in 1947, he stood up to the House Un-American Activities Committee and was thrown into prison and blacklisted as one of the infamous "Hollywood Ten." Though vilified, exiled and "broke as a bankrupt bastard," he refused to be silenced.
"Trumbo" is written by Dalton Trumbo's son, Christopher Trumbo. In a script born from funny and brilliant letters to friends, former friends, and family, a story emerges of a family's survival and one stubborn artist's quest to break the blacklist.
Because of its limited run, "Trumbo" is being offered first as a bonus option for Huntington subscribers. Any remaining seats will go on sale to the general public on October 18.
"Trumbo" is part of the new Huntington Presents series, in which the Huntington serves as presenter rather than producer.
The Huntington's 7-play subscription season includes August Wilson's "Gem of the Ocean," directed by Marion McClinton (BU Theatre); the world premiere of "Sonia Flew" by Melinda Lopez, directed by Nicholas Martin (Theatre Pavilion at the BCA); Lanford Wilson's "Burn This," directed by Susan Fenichell (BU Theatre); "The Rivals" by Richard Brinsley Sheridan, directed by Nicholas Martin (BU Theatre); "36 Views" by Naomi Iizuka, directed by Evan Yionoulis (BU Theatre); "Culture Clash in AmeriCCa," written and performed by Culture Clash: Richard Montoya, Ric Salinas, and Herbert Siguenza (Theatre Pavilion at the BCA); and "Falsettos," with music and lyrics by William Finn and book by William Finn and James Lapine, directed by Daniel Goldstein (BU Theatre).