"Lion King" Approaches
As the countdown to the opening of "The Lion King" continues, several cast names have been announced for the production which will officially open The Opera House on July 16.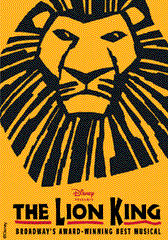 The evil "Scar" will be played by Dan Donahue, who has appeared at Long Wharf Theatre in Connecticut as well as at Seattle and Missouri Repertory Theatres. While at the Oregon Shakespeare Festival, he played more than 30 roles in 23 plays.
Thomas Corey Robinson will play "Mufasa," Futhi Mhlongo is the wise "Rafiki," John Plumpis will be meerkat "Timon," Mark Cameron Pow will be "Zazu" and Ben Lipitz is "Pumbaa" the warthog. Mufasa's son, "Simba" will be played by Alan Mingo, Jr., and Andriene Muller is the lioness "Nala."
The role of "Young Simba" will be alternated between Brandon Kane and Timothy T. Mitchum. "Young Nala" will also be alternated between two actresses, Tehillah Michelle Smith and Calica WIlson.
Now in its 7th sold-out year on Broadway at the New Amsterdam Theatre, "The Lion King" is the winner of six Tony Awards including Best Musical. Julie Taymor became the first woman in Broadway history to win the Tony for Best Director of a Musical.
The North American Tour is one of nine productions currently running worldwide along with stagings in New York, San Francisco, London, Hamburg, Tokyo, Nagoya, Scheveningen and Sydney.
Tickets are available at The Colonial Theatre box office (prior to the Opera House box office opening for the first performance on July 16) or by calling Ticketmaster at 617-931-2787.
-- OnStage Boston
7/1/04