While Convention gurus continue to unveil their plans, theatre fans know the real drama will take place on Boston Common when Commonwealth Shakespeare Company brings "Much Ado About Nothing" to Boston audiences in 23 performances from Saturday, July 10, through Sunday, August 1.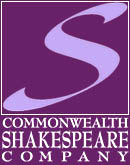 William Shakespeare's story of love's talent for bending men and women to its will is being directed by CSC Artistic Director Steven Maler.
The company will be led by Jonno Roberts as Benedick and Georgia Hatzis as Beatrice. Presented free to the public, "Much Ado About Nothing" is a production of The Wang Center for the Performing Arts and the Poduska Family Foundation with support from Target Stores.
Performances of "Much Ado About Nothing" are scheduled at the Parkman Bandstand on Boston Common as follows: Tuesday through Saturday at 8 p.m. and Sundays at 7 p.m.; matinees will be offered at 1 p.m. on Sunday, July 25, and at 2 p.m. on Wednesday, July 28, and Saturday, July 31. There will be an ASL-interpreted and Open-Captioned performance on Saturday, July 17, at 8 p.m. (rain date is Sunday, July 18, at 7 p.m.). This marks CSC's 9th annual "Free Shakespeare on the Common" offering; last year's production of "Macbeth" drew more than 60,000 patrons.
"Much Ado About Nothing" blends wit with zeal to share the hapless string of events affecting two disparate couples: Beatrice and Benedick, stalwart disdainers of love, and Hero and Claudio, two feathers to affection's winds. Both couples become victims of artful deception, one pushed together and the other thrown apart despite their wishes.
Jonno Roberts made his Broadway debut in Richard Greenberg's "Take Me Out;" off-Broadway credits include "Monster" at the Classic Stage Company; local Boston credits include "Twelfth Night" and "Henry V" at the Commonwealth Shakespeare Company, "True West" (American Voices play reading series), "Betty's Summer Vacation" at the Huntington Theatre, and "Antigone," "Richard II" and "Mother Courage" at the A.R.T.
Georgia Hatzis appeared in CSC's productions of "Macbeth" and "Henry V." Other local credits include "Pericles" and "La Dispute" at the A.R.T.
The role of Hero will be played by Amelia Nickles while Kaolin Bass will play Claudio. Nickles and Bass each hold an M.F.A. from the A.R.T./Moscow Art Theatre School Institute at Harvard University. Sean McGuirk will perform the role of Don Pedro, prince of Arragon, and James Noel Hoban will play Don John, his bastard brother. The role of Leonato, governor of Messina, will be played by Paul Farwell, Friar Francis will be played by Vincent Ernest Siders, Dogberry will be played by Bobbie Steinbach and Jacqui Parker will play Ursula.
The cast is completed by Paul Anderson, Chris Butterfield, Caroline DeLima, Matthew Dickson, Robert Doris, Ricardo Engerman, Jeff Gill, Danielle Levanas, Ray McDavitt, John Porell, Joshua Rollins, John Russell, Josh Segovia and Stephen Squibb.
Director Steven Maler is founding Artistic Director of Commonwealth Shakespeare Company and Vice President of Artistic Programming at The Wang Center for the Performing Arts. He most recently directed The Wang Center's play reading series, "American Voices: Drama, Dialogue, Downtown," consisting of four works performed last winter at the Shubert Theatre.
In addition to "Much Ado About Nothing," CSC will bring its production of "A Midsummer Night's Dream" to seven Boston neighborhoods this summer in its second annual Tour of the Parks program. The program will stage performances at the Elma Lewis Theatre in Franklin Park, Independence Park in South Boston, Christopher Columbus Park in the North End, Ronan Park in Dorchester, Blackstone Square in the South End, Kelleher Rose Garden in the Back Bay, Boston Nature Center in Mattapan and on Boston Common.
Commonwealth Shakespeare Company, LLC, is a partnership between The Wang Center for the Performing Arts, Inc. and Commonwealth Shakespeare Company, Inc., and is dedicated to performing the works of William Shakespeare in vital and contemporary productions presented free of charge to Boston's diverse community. Fundamental to its mission is educating Boston's youth not only about Shakespeare but also about their own potential for creativity.
For more information about "Much Ado About Nothing," call 617-532-1212 or visit www.freeshakespeare.org.