A Review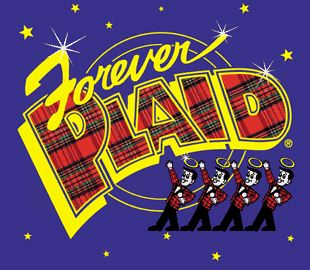 Charmin' Harmony
By R. J. Donovan
On February 9, 1964, an obscure musical group known as The Plaids were on their way to pick up their custom-made plaid tuxedos for their first big concert (at the Airport Hilton bar, The Fusel Lounge) when they were fatally blind-sided by a bus-full of parochial virgins from a nearby Catholic school on their way to witness The Beatles making their debut on "The Ed Sullivan Show."
The dreamy four part harmony was tragically silenced, but forty years later, the planets have come into alignment to bring The Plaids back to earth for one night only.
Created by Stuart Ross, "Forever Plaid" will be in residence at the Stuart Street Playhouse / 2nd Stage for an extended run.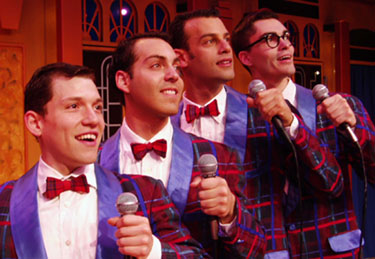 Dressed in snappy dinner jackets, Sparky, Frankie, Jinx and Smudge (left to right, Miguel Cervantes, Adam Souza, Andrew Giordano and Logan Benedict) are led by flickering candlelight into the cabaret-style performance space.
The original Boy Band, they've been waiting on the Heavy Side Layer for quite a while. But when the stage lights hit them, they call upon all those years of rehearsal (in the basement of Smudge's family's plumbing supply house) to present "the biggest comeback since Lazarus."
As a call-back to a time when life was simpler and music offered an actual tune, "Forever Plaid" is filled with hits like "Three Coins In A Fountain," "No Not Much," "Catch A Falling Star" and "Moments To Remember."
It's also very funny, thanks to the four talented actors who give it their all while dealing with phobias and afflictions that run from asthma to nosebleeds.
They perform with plungers, travel south of the border for a salute to the Caribbean, instigate sing-alongs, drag unsuspecting audience members on stage to help out when the musicians go on break, reminisce about the time they sabotaged Perry Como's car so he'd be stranded and have to come and see their show, and present a 3 1/2 minute mini-version of the Sullivan show complete with jugglers, plate spinners, trained seals, commercials, Jose Jiminez and Topo Gigio.
Through it all, Sparky overflows with enthusiasm, Jinx nervously pulls on the hem of his dinner jacket, Frankie keeps his inhaler at the ready and Smudge wages a constant battle to keep his right straight from his left (which gets big laughs when the boys don tartan sashes to present "Scotland The Brave").
While it's all about the harmony, each of the guys gets his moment to shine. Cervantes explodes with "Profidia," Giordano turns up the volume in "Cry," Souza charms in "Heart & Soul" and Benedict shows off in the "Sixteen Tons / Chain Gang" medley.
Under the careful direction of Dale Sandish (a member of the original Boston cast of "F.P." that played at the Boston Park Plaza Hotel), "Forever Plaid" is easily the endearing, musical treat of the summer season.
"Forever Plaid " is at The Stuart Street Playhouse / 2nd Stage at the Radisson Hotel, 200 Stuart Street in Boston. For information, call 800-447-7400.
-- OnStage Boston
6/18/04