A Review

Three Dads & A Bride
By R. J. Donovan
The hugely successful "Mamma Mia!" sets out to be nothing more than campy seventies froth, basking in the glow of a glittery disco ball. In that, it succeeds.
Back for its third visit to Boston, "Mamma Mia!" is at The Colonial Theatre through August 29.
Incorporating the songs of ABBA (by Benny Andersson and Bjorn Ulvaeus), the show is neither a revue nor a tribute concert. Rather, writer Catherine Johnson has fashioned a story that sets the show on a Greek island where a single mother has run a taverna for the past two decades while single-handedly raising a daughter, now 20.
The girl, who's about to be married, sets out on a quest to learn who her real father is. With three possible names from her mother's twenty-year-old diary, she anonymously invites all three to her wedding. As each had a history with the mother, each man travels to the island, not knowing the truth behind why they've been asked.
Opening the door for the music of ABBA to be ushered in, Johnson has written the mother, Donna Sheridan, to be a former glam-rock vocalist. And lo and behold, Sheridan's former back-up singers have also been invited to the wedding. Their reunion means songs will be sung and silver platform boots will be underfoot (so to speak).
The result? Two and a half hours of ABBA music, sometimes a bit forced into the contrived story, often seemingly interchangeable, but always apparently a crowd pleaser.
The night of 20-plus numbers includes everything from "Dancing Queen" and "Super Trouper" to "Money, Money Money," "The Winner Takes It All," "Under Attack," "Does Your Mother Know," "Gimme, Gimme, Gimme," "Knowing You, Knowing Me" and, of course, the title tune. (Even though it's wedged into the plot like almost every other song, the first act closer, "Voulez-Vous" is a dynamite number that shows off Anthony Van Laast's choreography.)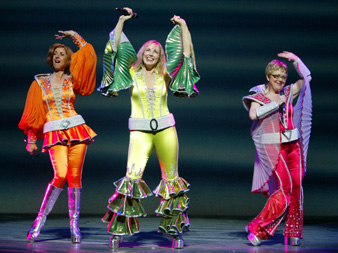 Colleen Fitzpatrick (center, left) plays Sheridan with spirit. However, it's Chilina Kennedy as daughter Sophie who captures the heart. The curtain rises with her alone on stage, her sweet bell-like voice softly singing the opening bars of "I Have A Dream."
The three possible fathers are architect Sam (Gary Lynch), proper English gent Harry (Michael DeVries) and Australian adventurer Bill (Craig Bennett in a very funny performance).
Donna's two friends/back-up singers are played by Cynthia Sophiea (above, left) as Tanya, Donna's rich bitch friend who's gone through her share of husbands, and Rosalyn Rahn Kerins (above, right) as feminist Rosie, who unexpectedly winds up with the Aussie Man Down Under near the end of Act Two.
Again, the plot is only a scant framework for the songs. And to prove the point, at story's end, the cast quickly changes costumes and reassembles for a silver-ruffled, flashing colors, mega-mix, mini-concert of "Mamma Mia!," "Dancing Queen" and "Waterloo."
No matter what you've thought of the rest of the night, after the mini-concert you're destined to walk out of the theater bouncing your head if for no other reason than the driving bass beat that's been pounding squarely through your chest.
In the end, "Mamma Mia!" is ABBA-so-tively all about the music.
"Mamma Mia! " is at The Colonial Theatre, 106 Boylston Street in Boston, through August 29. For information, call 617-931-2787.
Production Photo: Joan Marcus
-- OnStage Boston
6/26/04