Wellfleet Harbor Actors Theater continues its 20th Anniversary Season with the return of John Kuntz in "Glitterati." The one-man show runs every Monday and Tuesday from July 5 through August 31 (note that there are no performances July 26 and July 27).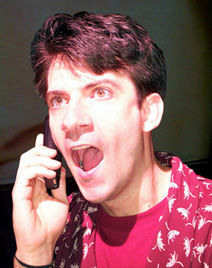 In "Glitterati," Kuntz plays a literary agent who's throwing a book release party for a universally reviled author -- but she's short on guests. In desperation, she invites the good, the bad, the ugly -- including strangers from a nearby convenience store.
As the party plays on, the guests begin to connect in bizarre and often surprising ways. Kuntz plays all the characters. Wesley Savick, who last directed "Fuddy Meers" at WHAT, will direct "Glitterati."
Kuntz made his WHAT debut in 1997 in "Rush Limbaugh in Night School" in which he played 27 different characters. Other WHAT shows include "Actorz --with a Z" (1998), "Fuddy Meers" (2000) and "Starfuckers" (2000).
His return to WHAT comes on the heels of his critical acclaimed performances in the title role of "Scapin," and Estragon in "Waiting for Godot," both at New Repertory Theatre. Kuntz is the writer/performer of the solo show "Freaks!" (Elliot Norton Award winner), and the plays "Sing Me to Sleep" (Elliot Norton Award winner ), "After School Special," "Emerald City," "Miss Price," "Jump Rope" and "My Life with the Kringle Kult." His most recent work, "Jasper Lake," was part of this season's Breaking Ground series at the Huntington Theatre Company.
John is the recipient of an Elliot Norton Award (for "Starfuckers,) and an IRNE award (for "The SantaLand Diaries"), both for Outstanding Solo Performance. His short plays have been part of the Boston Playwrights Marathon for the last five years. John also teaches Solo Performance in the BFA program at Emerson College, and is currently a commissioned Playwriting Fellow with the Huntington Theatre Company.
For information and tickets, call 508-349-6835 or visit www.what.org or www.CapeTix.com.