A Review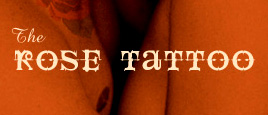 Satisfied To Remember
By R. J. Donovan
Huntington Theatre Company is ending its season on a charming note with "The Rose Tattoo," which Tennessee Williams thought of as his "love play to the world."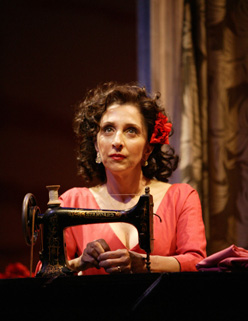 Starring Tony Award winner Andrea Martin (left) and directed by the Huntington's Nicholas Martin, the evening comes off as a poignant and warmly funny look at a woman who must face life without her husband, as well as the reality of who he really was.
Premiering on Broadway in 1951 with Maureen Stapleton and Eli Wallach (and a young Sal Mineo as one of the neighborhood children), "The Rose Tattoo" may be more familiar for its film version starring Anna Magnani and Burt Lancaster than its stage presentations. In fact, the topic of conversation among a lot of the opening nighters was about the excitement of seeing the stage play for the first time.
The setting is a Sicilian neighborhood along the Gulf Coast between New Orleans and Mobile. Andrea Martin is seamstress Serafina delle Rose, a self-described peasant who married a baron. Her love for her truck driver husband is intense. They have fallen asleep in each other's arms every night of their married life. She is devoted to him and their passion is profound.
In truth, he is a gangster of sorts and is killed while transporting drugs. Serafina's despair is so intense upon his death that she becomes a recluse, retreating to the safety of her home and her memories for the next three years.
She also tries to save her teenage daughter from the perils of love, which only pushes the girl into the arms of a sailor -- albeit an innocent one.
Eventually, her husband's past infidelities are exposed. And Serafina's own passions are stirred when a stranger arrives at her door. The grandson of a village idiot, he reminds her of her late love, although he has the body of her husband and "the head of a clown."
Andrea Martin is on stage for pretty much the entire three-act evening -- which is a plus, as she's the best thing in the production. Funny, frank and fiery, she brings spirit to a story which seems a bit dated by today's standards.
Martin creates a proud Serafina who, even in the midst of despair, holds her head high to cast fury at anyone who challenges her dreams, her ideals or her memories.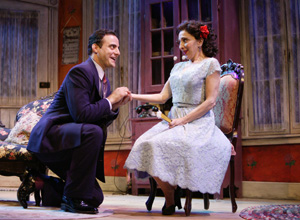 Her life changes when the hunky stranger walks in from out of nowhere. As Alvaro, the goofy guy with a big heart, Dominic Fumusa (left with Martin) is persuasive and extremely likeable (although his accent and mannerisms are very reminiscent of Tony Shaloub on "Wings").
Nicolas Martin has assembled a large cast that includes lots of local faces, including Melinda Lopez as Assunta, Diego Arciniegas in a very amusing turn as the parish priest, Bobbie Steinbach who's wonderful in a small role as one of the feisty neighbors and Nancy E. Carroll as The Strega who Serafina fears will cast her evil eye on them all. Ryan Sypek does a nice job as the young sailor.
Scenic designer James Noone has devised an interesting set that includes both the interior and exterior of Serafina's home. Noone's creation spins to follow the story and characters as the story unfolds.
Two weaknesses in the production are the occasional neighborhood crowd scenes, which noisily halt the story rather than adding local color, and Tennessee Williams' own rose symbolism, which could have gained strength from a "less is more" philosophy.
But these are minor points in an evening that features a star performance delivered with style, humor and passion.
"The Rose Tattoo" is at The Huntington Theatre, 264 Huntington Avenue in Boston, through June 13. For information, call 617-266-0800 or log onto www.huntingtontheatre.org.
Production Photos: T. Charles Erickson
-- OnStage Boston
5/21/04