A Review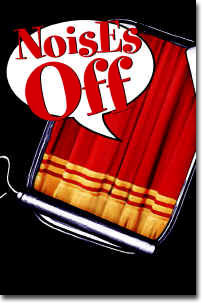 Voyeuristic Carrying On
By R. J. Donovan
Lyric Stage Company of Boston is ending its season on a sprightly note with a bubbly presentation of the English farce, "Noises Off." Artistic Director Spiro Veloudos directs the production with razor sharp precision.
In Act One, a mismatched crew of actors is rehearsing a third rate production of "Nothing On," a creaky sex farce filled with slamming doors and quick entrances and exits. The actors are an incapable lot and the director who's been saddled with steering this mess is patiently trying to pull things together as opening night looms.
In Act Two, the play-within-a-play is up and on tour. And the cast is now snapping at each other, having built up all kinds of animosity. The set has been spun around to give us a backstage view of "Nothing On" as all hell breaks loose during a performance.
The fun comes in watching them attempt to sabotage and /or kill each other-- in silence -- backstage as the play-within-a-play is being presented out of our view. The nimble, split second timing is terrific as the actors zip back and forth between the farce that's happening onstage and the mayhem that's happening off stage.
In Act Three, the set spins back to face us for "Nothing On's" final mangled performance four months later. The no-holds-barred insanity now spills from the wings to center stage, disintegrating things beyond belief.
Through jealous divas, sexual dalliances, lost contact lenses, an Arab sheik, an oversexed realtor, misplaced props, broken doors, tax collectors, an unruly cactus and an assembly line of flying sardines, the actors and the experience are wildly out of control.
(A tip of the hat goes to Robert M. Russo for designing an English country house set that not only fits in Lyric's thrifty space, but neatly reverses as well.)
"Noises Off" was written by acclaimed Michael Frayn (who also penned the far more serious mathematics-behind-the-A-Bomb play, "Copenhagen"). Essentially, the show is the same one act play presented three times. Each of the three acts is based on the same text, however each subsequent act has an additional overlay of insanity that has to fit perfectly for the comedy to click.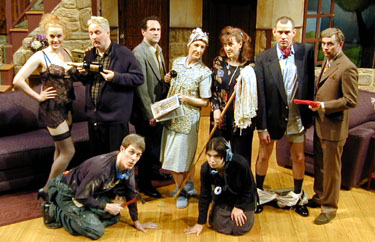 Thus, the Lyric actors have actually learned three different versions of the same play, with each progressive version adding expanded subplots with more dialogue and physical business.
Happily, the capable cast of "Noises Off" is quite wonderful as the bumbling boobs of "Nothing On."
Neil Casey is leading man Garry, who's so inarticulate that he can't complete a sentence of his own without leaning on " . . . you know" to finish his thoughts.
Sarah deLima is the fading "name star" of the sad production and her character is appropriately named Dotty. Kristen Sergeant is a blankly blonde and scantily clad Brook Ashton, who, despite the madness, continues delivering her lines as rehearsed, even though there's often no one on stage to receive them.
Barlow Adamson is the fretful but terribly proper Frederick (who gets tremendous mileage out of the single word, "sorry!"), Jessica Healy is harried stage manager Poppy Norton-Taylor, Maryann Zschau plays the mothering Belinda and Bob Jolly is the half-deaf Selsdon Mowbray, who's got little more on his mind than his next drink.
David Krinitt, who reminds you of a young Dick Van Dyke, is great in the role of Tim, the assistant stage manager who not only builds the set and plays a small part in the awful show but seems to understudy everyone else as well. Krinitt and Healy are particularly funny when they cross signals and mess up the "Nothing On" pre-show house announcements.
Corralling the blundering brood is Jeremiah Kissel as director Lloyd Dallas. With a mellifluous British accent that cuts right to it, he slices his marginal actors to size -- though they're so oblivious that they rarely feel the sharp point of his arrows.
Bottom line, "Noises Off" is just the cup o' tea to bring Lyric's season to a bright and daffy finish.
"Noises Off " is at Lyric Stage, 140 Clarendon Street in Boston through June 5. For information, call 617-437-7172.
Production Photo: Sheila Ferrini
-- OnStage Boston
5/6/04