A Review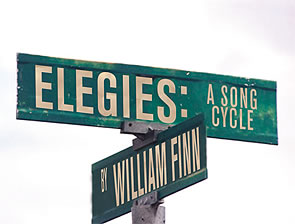 For The Dearly Departed
By R. J. Donovan
Natick native William Finn is the highly respected composer of "March of the Falsettos" (a bold story for its time, about a man who leaves his wife and child to join his male lover) and "Falsettoland" (carrying the story into the horrors of AIDS). Both shows were later joined to become the award-winning "Falsettos" -- which, coincidentally, will be presented next season at the Huntington.
Finn later faced his own mortality and survived a brain tumor, subsequently composing the autobiographical "A New Brain" -- which SpeakEasy Stage presented in a beautiful production a few seasons back.
With his "Elegies: A Song Cycle," now receiving its New England premiere at SpeakEasy, Finn is once again writing from personal experience. And once again death is his co-pilot.
"Elegies" is about people from Finn's life -- all of whom are dead. With those two threads as a theme, the musical pictures are an incongruous collection. His Mom is featured, as are former friends, lovers, colleagues, pets and barnyard animals.
The playbill wisely provides quick descriptions of some of these folks, but the 90 minute production still comes off as a remote revue.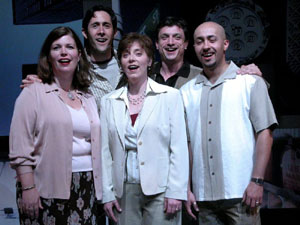 Directed by SpeakEasy's Artistic Director Paul Daigneault, the cast (from left, Kerry Dowling, Michael Mendiola, Leigh Barrett, Will
McGarrahan and Jose Delgado) consists of Boston's best. And while they work hard and the performances are robust, the tapestry woven is frail.
After the company opens the show as a group, each actor brings a chair on stage prior to their next number. (Special mention goes to accompanist Paul S. Katz who does a great job at the upstage piano.) Each chair is different, as each song is different. It's an interesting look and it's enhanced by Michael J. Eddy's thoughtful lighting design. And by evening's end, the stage is filled with mismatched furniture.

Fresh from her success in Boston productions of "Sweeney Todd," "Threepenny Opera" and "Jacques Brel," Leigh Barrett (left with Mendiola) fills the role of Finn's late Mother in "14 Dwight Ave., Natick, Massachusetts," about a dying woman who is taken on one final drive through the neighborhood she loves. In "Only One," Barrett is the strong-willed school teacher who makes demands of her students, to their benefit. In both, she is powerful.
Michael Mendiola (above with Barrett) addresses Barbara Finn's passing with the moving "When The Earth Stopped Turning." Kerry Dowling wraps her big voice around "Anytime (I Am There)," an anthem written in memory of a woman who proclaims that, even in death, she will always be with her young children. And Will McGarrahan brings nice shading to "Mark's All Male Thanksgiving" about a lawyer's annual holiday feast. (The lawyer, too, passes in a later song.)
Jose Delgado sings about a Korean market in his neighborhood that closed overnight. He also pays musical tribute to Joe Papp, renowned producer from New York's Public Theater. Many theatre fans know who he is, but I can't say the same about Jack Eric Williams (also the subject of a number), who played Beadle Bamford in the original production of "Sweeney Todd."
Another song details actress Peggy Hewitt. I happened to have seen Hewitt on Broadway, but I doubt many others in the audience had. Fewer probably ever heard of her. And the song is so specific to Ms. Hewitt that it presents an obstacle to connect.
By and large, the list of individuals highlighted in the 20-odd songs is so limited and so private, it's a challenge to slip into the inner sanctum.
Imagine making a courtesy call at a funeral service where you didn't really know the deceased. You wind up joining a group of people regaling themselves with stories about the guest of honor. They have the history and the memories to flesh out the emotional anecdotes. But you don't. And it leaves you standing there like a fifth wheel. Clumsy and pretty much unnecessary.
The cast is unquestionably talented. And Finn's work is obviously heartfelt. But assembled as an evening, "Elegies" is a little too clubby -- the inside story that only the family gets.
"Elegies: A Song Cycle" is at The Boston Center for the Arts, 539 Tremont Street in Boston, through May 29. For information, call 617-426-ARTS.
Production Photos: Eric Levenson
-- OnStage Boston
5/12/04