"Starlight Express" Skates Into The Wang
April 27 -- May 2
Boston Engagement to Feature New Music and 3-D Effects
Andrew Lloyd Webber's international musical sensation "Starlight Express" rolls into Boston for 8 performances only, at The Wang Theatre Tuesday, April 27, through Sunday, May 2.
Telling its story through music of every genre from pop, rock, rap, blues and country, the production's Boston run promises several new elements.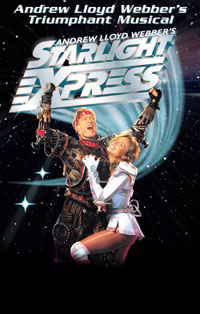 A surprise for Boston audiences will be the premiere of new music, written expressly to update this production. The new compositions have been created by Lloyd Webber with one of Broadway's newest talents, David Yazbek. (Yazbek, the Tony Award nominated composer and lyricist of "The Full Monty," is is reportedly contributing new material for the Broadway production of the London hit, "Bombay Dreams," now in previews at the Broadway Theatre. His name, however, is not presently listed in the Playbill for that show.)
As "Starlight" begins, an unseen nine year old boy playing with his model train set is sent to bed by his also unseen mother. As he drifts to sleep, his imagination takes over, controlling the engines and cars, giving each a life and personality of its own.
In his dreams, a competition is declared whereby each train engine will pull one car in a series of races staged across North America. At the story's heart is Rusty, the steam engine who's rebuffed by the other cars, while he longs for Pearl, the observation car, to notice him. The engines and cars couple and uncouple for the races (and in their relationships) in a storyline that parallels the tale of The Little Engine That Could, subsequently teaching a powerful lesson about the triumph of the human spirit.
Andrew Lloyd Webber orignially wrote "Starlight Express" as a sort of fairy tale for his own children. The show opened at the Apollo Victoria Theatre in London in 1984, but was revised about nine years later when new music and chorography were added. The novelty of the original was that the Apollo Victoria was decked out with a racetrack and bridges through and over the orchestra section. The actors literally sped by audience members in their seats as the various train cars raced against one another.
The transfer from the West End of London to Broadway's Gershwin Theatre in 1987 saw additional revisions for what was then the most expensive production in town -- the Gershwin set alone was estimated to cost almost $3 million. The set in London ranked as the largest ever built for a West End theatre.
This production of "Starlight Express" also boasts never before seen 3D film sequences which bring the action out into the audience adding a whole new element to the musical journey.
Brought to Boston by London's original creative team, this all-new production of the international sensation fuses state of the art technology with electrifying music and dazzling sets and costumes designed by John Napier, the Tony Award winning designer of "Cats" and "Les Miserables."
An impressive set and unique lighting and special effects system with more that 1,400 color, pyrotechnics, lasers and optic effects combine to transform the roller skating performers into wildly careening trains, each with its own unique personality.
"Starlight Express" opened in London on March 27, 1984, and closed on January 12, 2002, after an almost 18 year run in the West End. The show ranks second only to "Cats" as the longest running musical in British theatre history. The show went on to achieve international success with additional productions on Broadway, in Las Vegas, Japan, Australia, a North America tour and in Bochum, Germany, where it is still playing 14 years later.
Tickets are on sale at The Wang Theatre Box Office, 270 Tremont Street in Boston, online at www.wangcenter.org, or by calling Telecharge at 1-800-447-7400.
-- OnStage Boston
4/3/04