A Review

Hot Time In The City
By R. J. Donovan
"Menopause The Musical" is a show that knows its audience. And plays to it. To the hilt.
Now at the Stuart Street Playhouse, "Menopause" chronicles the meeting of four women in Bloomingdale's who instantly bond over maladies of "The Change" -- memory loss, hot flashes, night sweats and wrinkles, among others. Written in 2000 by Jeanie Linders, the show has become a solid draw off-Broadway.
The 90-minute revue has no original compositions, choosing instead to serve up parodies of tried and true hits, mostly from the 60s. It's a one joke evening that tends to repeat itself again and again (and again)-- but the masses on opening night didn't seem to mind. Granted the audience was mostly women, and most of them seemed ready, willing and able to celebrate the material.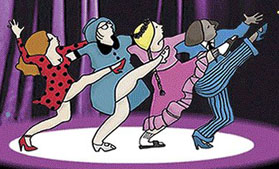 To its credit, "Menopause" has a capable cast of four to keep things moving along. Playing the aging soap star, Iowa housewife, former hippie and power executive are (in order) Kathy St. George, Adrienne Cote, Mary Callanan and Wydetta Carter.
St.George once again shows why she's not only one of Boston's favorite faces but one of its most reliable musical stage talents. Carter unleashes a soaring powerhouse of a voice. The always entertaining Callanan delivers some sensational singing. And Cote plays the wide-eyed out-of-towner with sweet curiosity. In less proficient hands, the fragility in the material would be more conspicuous.
Just as "Forbidden Broadway" calls upon familiarity with original theater songs to drive its humor, "Menopause" draws on the musical glory days of its audience. "Chain of Fools" becomes "Change, Change, Change," "Stayin' Alive" becomes "Stayin' Awake," "Night Fever" becomes "Night Sweats," "Don't Make Me Over" becomes the plastic surgery anthem "Please Make Me Over," "Looking For Love In All The Wrong Places" is "Looking For Food," and "Puff The Magic Dragon" becomes "Puff, My God I'm Draggin'." You get the idea.
Almost every number is a similarly choreographed foursome until late in the evening when St. George gets a solo spot with "I'm Having A Hot Flash" (sending-up "We're Having A Heat Wave"). Her own deft, comic personality sparkles through plus she gets to play a bit with an male audience member. It's a nice break and the show would benefit from more moments like it. Carter's spoof of Tina Turner follows (complete with spiked wig), and that, too, is an energetic plus. The rest of the show could stand a little more creativity in staging.
But to end where we began, "Menopause" knows its audience. And like an swirling revival meeting, the devotees were on their feet and dancing in the aisles . . . literally.
-- OnStage Boston
4/17/04