A Review

Big Top Party
By R. J. Donovan
Camels and tumblers and more, oh my!
Just as sure as the crocus are beginning to stretch in the Public Garden, spring marks the return of the Big Apple Circus to town. This year, the 19th in Boston, finds the Big Apple in a new location -- at Bayside Expo Center. Parking is easy, although more expensive.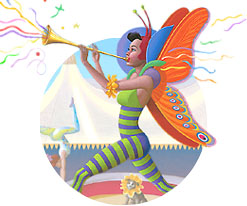 This year's collection of international talents is entitled Carnevale. It's all about partying -- from Mardi Gras to Rio, Trinidad and beyond. The nice thing about the Big Apple Circus is that it's constantly reinventing itself while maintaining consistent in quality and charm.
Old faces mix with new as Paul Binder, Big Apple's producer and artistic director, welcomes the crowd. Emcee Dinny Maguire holds court while perennial favorite Grandma (Barry Lubin) plays with the audience, swings her trademark beads, flings popcorn at hapless ring-siders and presents a mini-tribute to Pink.
Russian trapeze artists The Aniskin Troupe are astounding. When was the last time you saw a high flying act incorporate a mini-trampoline up in the rafters above the crowd? Even their bows are spectacular as one of the six makes a head-first death drop into the safety net while the crowd squeals with delight.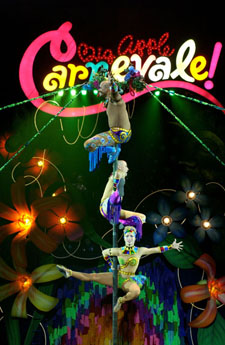 Acrobatic trio Los Aregos (left) are equally dazzling, demonstrating amazing strength with their contortions as they writhe and wriggle up and down a carnival pole. From Cuba, they received international gymnastics medals at the recent World Circus Festival competition in Brazil.
Katja Shumann works does her usual magic with her majestic Arabian horses. Andrey Markov of Russian puts his trained dogs through their tricks, returning later with a juggler's routine in which one of the dogs actually gets into the act. And Virgile Peyramaure and Andrey Mantchev perform some amazing hand to hand balancing.
Music Director Rob Slowik gets more than he bargains for when he leaves the safety of the bandstand to join Grandma in the ring for some musical frivolity.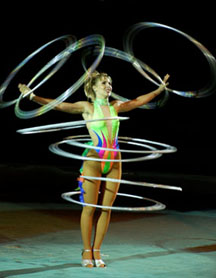 Taking a simple prop and turning into a swirling showstopper is Alesya Goulevich (left). The Belarus native starts with a handful of glittering hula hoops, but eventually sends so many hoops churning simultaneously up and down her body that they're impossible to count.
Grandma shares clowning duties with Vallery, from the Ukraine. Vallery's at his best when he calls on one of the stagehands for assistance in climbing up to a trapeze bar that's just out of reach. Neither succeeds in their mission, and the unlucky stagehand finds his head securely jammed up the leg of Vallery's baggy shorts.
From Columbia and Latvia, trapeze pros Tatiana and Pedro Carrillo score big with the crowd as they effortlessly swing over the audience. While always hanging on to one another, they rarely use their hangs. At one point, Tatiana locks her feet into strict right angles, hooks them onto Pedro's thighs and effortlessly soars upside down through the air.
Trained camels (and a llama) are a nice surprise this year, under the direction of Hans-Ludwig Suppmeier and Michelle Youens. They may not be as elegant as the horses, but they're still something to see (especially when they become curious of the kids in the front row). And be honest, when was the last time you saw a camel onstage -- outside of the manger scene in the Christmas Spectacular at Radio City?
The final burst of excitement comes from the Carrillos on the high wire. Pedro and partner Capitolino Aeredo actually walk backward up the wire before arriving at their respective perches. After the two jump rope and present a host of intense tricks (including a sword fight), Pedro attempts a backward somersault. (He is reportedly the only man in the world doing this.) Although he was a bit shaky on the landing, he did it -- and the crowd ate it up. The Carrillos won the Silver Clown award at the 2001 Festival du Cirque in Monte Carlo while Pedro individually holds the Guinness record for the greatest number of consecutive jumps on a tightrope with 780 jumps.
As colorful as ever, this year's set is by Dan Kuchar, while Mirena Rada contributes enticing scenery and costumes. Lighting is by Paul George with choreography by Jonathan Stuart Cerullo. All are under the watchful eye of show director Raffaelle De Riti and creative director Michael Christensen.
Big Apple Circus is an experience to be enjoyed by the entire family. And in the intimate setting of the sky blue tent, every seat is a good one.
"The Big Apple Circus" is at Bayside Expo in Boston through May 9. For information, call 617-931-2787.
Production photos by Bertrand Guay/Big Apple Circus
-- OnStage Boston
4/8/04