"Oklahoma!"
At The Colonial
May 25 - June 5
More than 60 years after it first came to life on the stage of Boston's Colonial Theatre, Rodgers & Hammerstein's "Oklahoma!" will return to town for a special two week engagement at The Colonial from May 25 - June 5.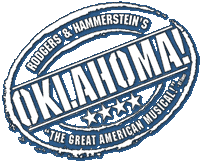 When the show had its pre-Broadway try-out at the Colonial in 1943, it was known as "Away We Go!" It was later renamed and went on to become one of America's classic musicals. This newly conceived national tour of "Oklahoma!" (directed by Fred Hanson with choreography by Ginger Thatcher) is adapted from the Cameron Macintosh presentation of the Royal National Theatre production recently seen on Broadway. The original set, costume and lighting designs are being recreated for the tour.
Based on the Lynn Riggs' play "Green Grow The Lilacs," "Oklahoma!" was Rodgers & Hammerstein's first collaboration. It remains, in many ways, their most innovative.
Originally produced by The Theatre Guild, the story was first offered to Richard Rodgers and Lorenz Hart. Hart, however, was too ill to take on the project. Legend has it that he suggested Rodgers talk with Oscar Hammerstein about the show. And unknown to Rodgers, Hammerstein had already shown interest in working on the production, but with Jerome Kern. With Hart unable and Kern uninterested, Richard Rodgers and Oscar Hammerstein joined for a project that would change musicals forever.
Up until this time, musicals traditionally opened with a stageful of chorus girls. "Oklahoma!" opened, instead, with a single woman on stage churning butter. And the first song, "Oh What A Beautiful Morning," was begun off stage by an lone actor. And in keeping with the mid-west setting, there were no high-stepping musical numbers. Instead, Agnes de Mille created folk ballets.
Having created a score that included such hits as "People Will Say We're In Love," "Surrey With the Fringe On Top" and the title number, Rodgers and Hammerstein went on to an amazing collaboration that would include "Carousel," "The King & I," "South Pacific" and "The Sound of Music."
"Oklahoma!" has been honored with numerous awards including the Pulitzer Prize, two Academy Awards, an honorary Grammy and a special Tony. In 1993, it became the first Broadway musical commemorated with a U.S. Postage stamp. And a recent survey by New York's Drama League dubbed "Oklahoma!" "the Best Musical of the century."
For information, stop by the Colonial box office, call 617-931-2787 or log onto www.ticketmaster.com.
-- OnStage Boston
4/23/04