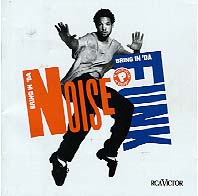 Hear Comes 'Da Noise
Savion Glover To Star

When "Bring in 'Da Noise, Bring in 'Da Funk" hits the stage of The Wang from October 8 - 13, it will be the original creative team that's behind it all. George C. Wolfe and Savion Glover, who won Tony Awards for their direction and choreography respectively, are re-staging the production for touring. (The show last appeared in Boston in
Based on an idea by Wolfe and Glover, "Noise" was groundbreaking in the way it utilized the rhythms and energies of tap to celebrate the beat through history. With poetry by Reg E. Gaines and music by Ann Duquesnay, Zane Mark and Daryl Waters, the show began as a workshop at The Public Theater during the summer of 1995. It played to packed houses and subsequently transferred to Broadway in April of 1996.
Described as a "white hot exchange of energy," the show received another round of astounding reviews from both the theater and dance communities.
Wolfe and Glover first worked together in 1992 on the landmark musical, "Jelly's Last Jam." (Glover had first made a name for himself in "The Tap Dance Kid" in 1983.) During the summer of 1994, Wolfe presented Glover in "Dancing Under The Stars" in Central Park. (For the trivia-minded, Savion's name came from his mother's variation on the word "savior.")
"Noise" grew out of Wolfe's idea of Glover as a living repository of rhythm. In Wolfe's words, "From generation to generation, tap dancers taught each other their steps. The older timers passed their information on to Savion, and it landed in his feet, his being and his soul. Reinventing those steps , he has created a new form, and through his choreogprahy in 'Noise,' he is teaching tap to a new generation of dancers."
For information, visit the Wang box office at 270 Tremont Street, call Telecharge at 1-800-447-7400 or long on to www.wangcenter.org.

-- OnStageBoston
09/10/02