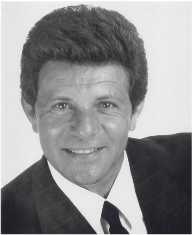 Frankie Avalon in All-New "Grease"

An all-new production of "Grease" will play The Wang Theatre for a limited engagement October 15 through 20. Frankie Avalon, reprising his role from the film version, stars as Teen Angel. The former teen pop star is reportedly joining the tour for selected dates only and Boston is his first stop.
Written by Warren Casey and Jim Jacobs, "Grease" has had a long (and one can only imagine -- profitable) life, opening on Broadway in 1972 and consistently playing everywhere from major arenas to high school auditoriums ever since.
Complete with poodle skirts and slicked back hair, "Grease" brings the fifties back big time with songs like "We Go Together," "Greased Lightning," "Beauty School Drop Out" and more. Through special arrangement, three songs from the film version -- "Hopelessly Devoted To You," "You're The One That I Want" and the title number -- are now included in the stage show.
Producers promise a pre-show Dance Contest and a post show stroll down memory lane with Frankie, who is best known for such hits as "Venus" and "De De Dinah" as well as a successful string of "Beach Blanket" surfer movies with former Mousketeer Annette Funicello.
For information, grab your fuzzy dice and bop on over to the Wang box office at 270 Tremont Street, call Telecharge at 1-800-447-7400 or visit www.wangcenter.org.

-- OnStageBoston
09/10/02