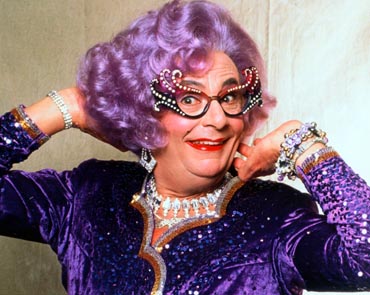 Edna "Cares" Enough to Stay A Bit Longer
The Dame To Hold Court At The Colonial Through October 13
Dame Edna Everidge, the most talented and fascinating personality in Australia's history, cares about Boston so much that she has decided to extend her original stay at The Colonial Theatre to enlighten as many people as possible.
Her bejeweled engagement of "A Night With Dame Edna," presented by Broadway in Boston, will now run from September 24 through October 13. (This extenstion is absolutely the last, as Dame Edna is due to enlighten Connecticut at New Haven's Shubert Theatre beginning October 15.)
In Dame Edna's own words, "I have fallen in love with America and it adores me back." She adds with a twinkle, "You need me more than you think. And spookily enough, I need you. I've missed you possums!"
Edna, who regularly hurls gladioli at her adoring audiences, last warmed Boston's hearts in February of 2001 with "Dame Edna: The Royal "Tour." Clearly, it was one of the funniest nights of the theater season. Then, her little show was tucked away at The Wilbur Theatre. Being the astounding mega-star she is, she broke all house records. So this time around, the ever-inventinve folks at Broadway in Boston have reserved the larger Colonial for her nightly fun-fest of music and comedic insight.
"The Royal Tour" received a special Tony Award for a Live Theatrical Event as well as honors from the Drama Desk, the Outer Critics Circle and more. Additionally, audiences across the country voted her their favorite touring performer and she subsequently received the National Broadway Award.
The creation of Australian actor Barry Humphries, Dame Edna is touted as a "housewife, talk show host, children's book illustrator, advisor to British royalty, investigative journalist, guru, icon and legend." With all that, she still found time to put pen to paper and author "Dame Edna's Coffee Table Book," "Dame Edna's Bedside Companion," and her autobiography "My Gorgeous Life."
Most recently seen on television on "Ally McBeal," Dame Edna has hosted a series of critically acclaimed British television specials, hosted the talk show "The Dame Edna Experience" and made numerous guest appearances on many American TV shows.
For information and tickets, put on your best rhinestone-encrusted glasses and head to the Colonial box office at 106 Boylston Street, call 617-931-2787 or stop by any Ticketmaster outlet.
You'll be glad you did.
-- R. J. Donovan
09/01/02