A Review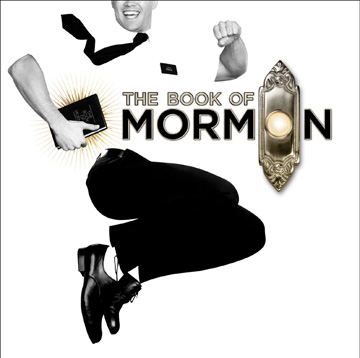 Holy Big Time Broadway Musical !!!
By R. J. Donovan
Everything you've probably heard is true. It's offensive, it's blasphemous and it's highly inappropriate. It's also hysterically funny.
"The Book of Mormon" has finally made it to Boston's Opera House, and the audience on Opening Night was embracing every politically incorrect, irreverent, nothing's-off-limits moment.
The show's book, music and lyrics are by Trey Parker, Robert Lopez and Matt Stone. Parker and Stone are the four-time Emmy Award-winning creators of the landmark animated series, "South Park." Tony Award-winner Lopez is co-creator of the long-running hit musical comedy, "Avenue Q." This alone gives you idea of the show's tone. Clearly, this is not for the Rodgers & Hammerstein matinee crowd, although the form is remarkably in the same tradition. Think "South Park" on steroids.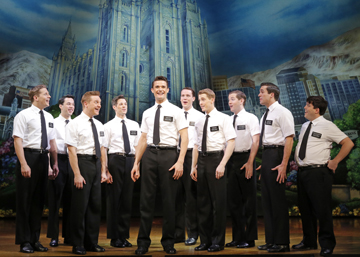 Winner of nine Tony Awards including Best Musical, "The Book of Mormon" tells the satirical musical tale of two naive, young Mormon missionaries -- Elder Price and Elder Cunningham -- fresh out of training, who travel to a remote village in Uganda to spread their scripture. The locals, living in poverty and terrorized by the resident warlord, have other things on their minds than listening to the religious newbies from Salt Lake City.
The show's prologue provides a quick dose of Mormon history, taking us back to 326 AD -- ancient times in upper state New York --with Mormon and the Angel Moroni. (Fans of "South Park" with a sharp ear will recognize the voice of Trey Parker here.)
The show's first number "Hello!," addresses the missionaries duty of spreading the word by leaning on every doorbell in town "to share the most amazing book." It's a great beginning and the freshly-scrubbed guys, all dressed in black slacks, white shirts and black ties, give it their exuberant all.
At the end of their training sessions, the boys are eager to find out where they've been assigned, in pairs (. . . two by two, just like the ark). Some of the guys will be sent to fabulous places like Norway (land of gnomes), France (land of turtlenecks) and Japan (land of soy sauce).
The confident and good-looking Elder Price envisions his next two years spreading the good word in iconic Orlando. His dreams are dashed when he's assigned to Uganda. Making it even worse, his partner will be the nebbish, needy and overweight Arnold, with no friends, no prospects and a chronically untucked shirt. Arnold also has an uncontrollable urge to lie. Plus, he's never even read The Book -- which makes his explanation of The Church of Jesus Christ of Latter-day Saints a hoot.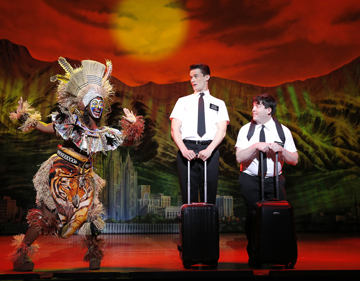 And so the two head off to the depths of the African jungle, living under pathetic conditions (which is probably what missionaries are supposed to be doing anyway).
The far-from-modest Elder Price is crushed by his inability to connect and soon loses his faith. Elder Cunningham, meanwhile, turns from doofus to pseudo-prophet when he finds his calling and the natives gather.
Filled with sight gags, raw humor and energetic musical numbers, the show skewers everything from poverty and sexual abuse to homosexuality, female circumcision, AIDS, sodomy, Starbucks and "Star Trek" while dragging in everyone from Nelson Mandela to Jeffrey Dahmer, Darth Vader, hobbits, Yoda, Bono, Johnnie Cochran, Hitler and Mickey Mouse.
The musical rips organized religion apart, no matter the affiliation. However, it also comes around to provide simple fact vs. belief commentary before the final curtain.
(And if you're wondering how the Mormons themselves feel about all of this, look no further than the Playbill, where they've taken three full page ads -- one of which states with a smile, "You've seen the play, now read the book.")
The musical numbers choreographed by Tony Award-winner Casey Nicholaw are filled with "Up With People" sparks straight out of a zippy 60s TV special. They're both funny and precisely executed. Additionally, die-hard musical theater fans will see quick moments in homage to other big shows, from "Lion King" to "Les Miz."
The "Hello!" opening is a callback to "The Telephone Hour" in "Bye Bye Birdie," while "Sal Tlay Ka Siti" (a mangling of Salt Lake City) brings to mind "Somewhere That's Green" from "Little Shop of Horrors." "Spooky Mormon Hell Dream" has a sense of "Springtime For Hitler." The natives' lob-sided pageant on Mormonism, complete with dysentery and having sex with frogs in "Joseph Smith American Moses," takes its cue from "The Small House of Uncle Thomas" in "The King & I."
The showstopping "I Believe" has a cute intro that steals directly from "I Have Confidence" in "The Sound of Music." Here, "A captain with seven children . . . what's so fearsome about that?" becomes "A warlord who shoots people in the face . . . what's so scary about that?"
Beyond that, the ability to embrace denial with a smile is dealt with in "Turn It Off," while "All American Prophet" gives God a Donny Osmond spin (prophet Joseph Smith says people must go along with his story of God's Golden Plates, "just 'cuz.") And the entire evening circles back to the beginning for its finale, which is not only satisfying but quite telling.
Hard as it may be to believe, none of this is mean spirited, and the show has a strong, uplifting sense of heart. Further, the cast is top rate from the leads to the characters who only have a line or two but hit a home run every time.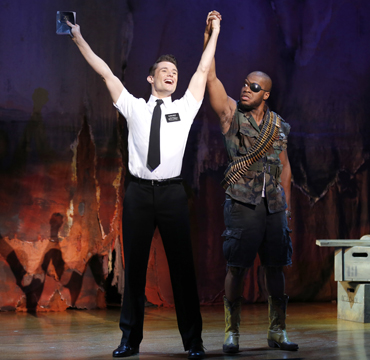 As Elder Price, Mark Evans is all shiny, self-confidence, knowing his heart and his future -- even as all falls apart around him. He belts his high notes with the best of them, especially in "I Believe" (at left). Evans has appeared in some of the biggest musicals in the West End and is making his American musical stage debut with "Mormon."
Christopher John O'Neill is lovable and believable as the dweebie Arnold, who finds a sweetheart in the lovely young Nabulungi (whom he never calls by the same name twice). O'Neill, who makes "Man Up" his own, is making his professional stage debut with this tour.
As Nabulungi, Samantha Marie Weir is sweet as the young girl who provides the turning point for the villagers to embrace conversion. She also has a cute running joke about texting that never gets old.
Grey Henson is Elder McKinley, who addresses his latent homosexuality in "Turn It Off;" Kevin Mambo is village leader Mafala Hatimbi, and Derrick Williams is the murderous General (whose actual name is so obscene that you'll have to attend the show yourself) with the shiny but evil smile.
In the end, "The Book of Mormon" takes delight in skewering organized religion and attempting to offend as many people as possible. In truth, it's taken that delight all the way to the bank.
Therefore, "Mission(aries) Accomplished."
"The Book of Mormon" is at The Opera House through April 28. For information, call 800-982-2787.
-- Production Photo: Joan Marcus
-- OnStage Boston
TICKET NOTE: With the Boston run virtually sold out, the producers will be offering a lottery for low-priced seats for every performance. Entries will be accepted at the Boston Opera House box office beginning two and a half hours prior to each performance. Each person will print their name and the number of tickets (1 or 2) they wish to purchase on a card provided. Two hours before curtain, names will be drawn at random for a limited number of tickets priced at $25 each. Only one entry will be allowed per person. Winners of the lottery must be present at the time of the drawing and show valid ID to purchase tickets. Tickets are subject to availability.
04-12-13