A Review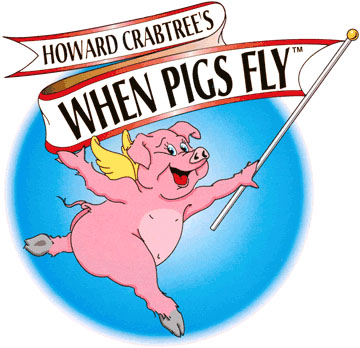 Glitter And Be . . . Over The Top
By R. J. Donovan
Poor Howard Crabtree, student of the arts. He's suffered a brow-beating from his school guidance counselor who demands to know what he's going to do with his life. "Plumbing? Gardening? Chicken Farming,?" she leers.
No, says Howard, proudly. He wants to "sing, dance and make funny costumes" with others like him, who'll appreciate the spotlight and get all the jokes. The guidance counselor's totally unsupportive retort? "WHEN PIGS FLY!"
Howard proves her wrong, of course, and the result is an exuberant musical revue with a gay sensibility -- Howard Crabtree's "When Pigs Fly." As launched at Lyric Stage, the show zings along with sharp performances, clever songs, hilarious lyrics, outrageous costumes and enough wicked "in" jokes to make the crowd squeal with delight.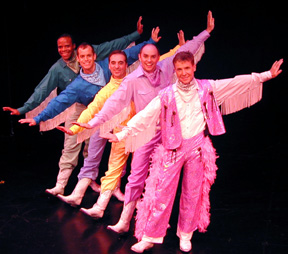 With glitter, sequins and guys in high heels, "When Pigs Fly" is gayer than gay. The cast of five guys confides right in the opening number, "just to be in it, you've gotta be out."
Conceived by Howard Crabtree and Mark Waldrop, with sketches and lyrics by Mark Waldrop and music by Dick Gallagher, "When Pigs Fly" is directed at Lyric by Ilyse Robbins. The original costume designs have been recreated by Tina Marie Green-Heinze.
The wildly imaginative costumes actually have to be seen to be believed. Among other things, you've got a sparkling quartet of life sized playing cards, a mermaid with issues, a lonely centaur, Lady Liberty, a pair of gals who turn their dressing tables into architectural attire, a trio of heartsick Elvis wannabes with hair as big as a Buick and a gathering of 16th century French fops in ornate wigs that look like they fell off the "Beauty & The Beast" truck.
Along the way, there are campy torch songs pining for the affections of Dick Cheney, Pat Robertson and Charlton Heston, a glowing soft shoe number called "Light In The Loafers," a Quasimoto spoof, a clever nod to "Bewitched," an intentionally aborted Bette Davis / Joan Crawford snippet, a grown-up "Annie" who's been there and back again and a frenzied show tune medley that mangles everything from "Life Is A Cabernet" to "Cockeyed Oculist."
All five guys are terrifically talented singer-dancers with Dan Bolton (as the sweetly boyish Howard), Britton White (as the handsome centaur, "Bewitched" guy, guidance counselor and others), Brian Robinson (as an Elvis, Fop, a Loafer guy and the "Bigger is Better" solo), Peter A. Carey (as Quasimoto's love, Bette Davis and the tortured torch singer with the overly slick hair) and Neil A. Casey (as Lady Liberty, the mermaid and the pig from the show's title, among others).
While all the guys are just great, it's Casey who consistently steals the show with a quick aside, a stony glare at the audience or one more Jack McFarland outburst that he can't work under such insufferable conditions.
Carey, meanwhile, gets the one subdued moment in the show with an engaging song that tells us things are never so serious that we can't find a moment to laugh.
The finale, which Howard uses as his own personal revenge against that long-ago guidance councilor, is great. But following every other over-the-top, ham-packed number that's come before, it has a hard time putting a final cap on the fireworks -- although Casey comes close.
As Howard Crabtree was a real person, the show has an autobiographical touch. He started out in the business as a dancer, later working backstage as a dresser and then joining the cast of "La Cage aux Folles." It was there that he met writer Mark Waldrop. Their first off-Broadway effort in 1993 was "Whoop-Dee-Doo," with Howard describing his outrageous costumes as being "Disney on drugs." Their last effort was "When Pigs Fly," and Howard died of AIDS in 1996 shortly before its opening.
"When Pigs Fly" last played at Lyric in 1996. It was so successful that Producing Artistic Director Spiro Veloudos wanted to bring it back this year in celebration of the company's 30th anniversary season. (With the exception of Brian Robinson, this is the same cast.) Before the show even opened this past week, sales were so strong that the engagement was extended by a week.
So there ya go. Pigs will apparently be airborne 'til the cows come home.
"When Pigs Fly" is at Lyric Stage, 140 Clarendon Street in Boston through October 18. For information, call 617-437-7172."
Production Photo: T. Charles Erickson
-- OnStage Boston
9/17/03