Blue Man Group Wants YOU!
. . . to be artistic
Inspired by the rich artistic and cultural landscape of the Boston area, Blue Man Group is launching Vortex: A Juried Art Exhibition, which will culminate in the creation of a venue for local artists to exhibit their work in the lobby of the Charles Playhouse.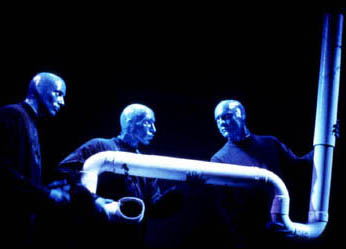 Vortex: A Juried Art Exhibition seeks submissions of exciting work that challenges expectations and explores the impact of art on the community.
Details of the contest are as follows -- No fee. Single entry per artist. All mediums welcome, work must be no larger than 35"x40"x3" and able to be mounted on wall. Artists must reside in, or currently attend school in the state of MA. Deadline for entries is September 30, 2003. Additional criteria for submission and artist entry form are available at www.blueman.com/contest.
Show jury will consist of notable contributors to the Boston art world, as well as several representatives from the Blue Man Group creative community. The Grand Prize is $2500, with a $100 Second Prize, and $500 prizes for 2 runners up. All winners will receive a one year exhibition of their work at the Charles Playhouse.
Selected artists' work will be unveiled at a Blue Man Group event to be held Monday, October 20, 2003.
Blue Man Group is a creative organization known for their innovations in a variety of mediums. Boston's Charles Playhouse has been home to Blue Man Group since the opening of their theatrical production "Tubes" in 1995.
Check out more Vortex details online, here.
-- OnStage Boston
9/4/03