Bruce Vilanch to star in "Hairspray"
Hold onto your AquaNet kids, Edna's got a new look.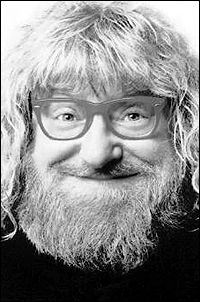 When "Hairspray" bops into town in October, look for comic legend Bruce Vilanch to play Edna Turnblad, the "mother of all mothers" role made famous on Broadway by Harvey Firestein.
In honor of his upcoming stage role, he shaved his beard LIVE on the air with Regis Philbin and Kelly Ripa on July 24.
Bruce has a long history in show business, having been writing and performing for 30 years. He has written special material for some of the most popular performers in the world including Diana Ross, Michael Feinstein, Joan Rivers and Bette Midler. He has also written for virtually every televised award shows, event and function from The Oscars to The Emmys, The Tonys and The Grammys. (With fifteen Academy Awards telecasts to his credit, he received consecutive Emmys for the Billy Crystal-hosted shows.)
In addition to his three-season stint as a regular on "Hollywood Squares," he also acted as head writer. Vilanch is the author of "Bruce! My Adventures in the Skin Trade and Other Essays," the subject of the comedy documentary "Get Bruce!," and has performed limited engagements of his one-man show, which he lovingly describes as a "bio-comedy."
Based on the film of the same name written by John Waters, "Hairspray" recently scooped up a bouquet of eight Tony Awards, including honors as Best Musical. In the original film, Edna was also played by a man (Divine).
For those few souls who don't know the story -- it's 1962 and Baltimore's Tracy Turnblad is a big girl with big hair and an even bigger heart. She has only one passion -- to dance. When she wins a spot on the local TV dance program, "The Corny Collins Show," she is transformed, overnight, from outsider to teen queen. But can a plus-size trendsetter in dance vanquish the program's reigning princess and win the heart of the local heartthrob?
We think she can.
Performances at The Colonial Theatre are set for October 7 through November 1. For tickets, stop by the box office on Bolyster Street or call 1-617-931-2787.
-- OnStage Boston
7/24/03