Tony Awards PBS Special
Compilation to Feature Clips from 1967 to 1986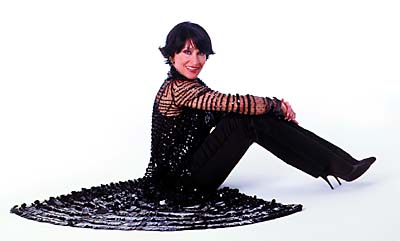 Set your VCRs for a new PBS special showcasing some of the best of the Tony Awards broadcasts through the years. Set for airing during the August pledge drives, "Broadway's Lost Treasures" will be hosted by the award-winning Angela Lansbury, Jerry Orbach and Chita Rivera (left, currently starring in "Nine" with Antonio Banderas.
The broadcast will reportedly include Patti LuPone and Mandy Patinkin doing "A New Argentina," Jennifer Holliday singing "And I Am Telling You I'm Not Going" from "Dreamgirls," Robert Preston's classic presentation of "Trouble" from "The Music Man," Joel Grey's "Wilkomen" from "Cabaret," Carol Channing leading the "Hello, Dolly!" company in "Before The Parade Passes By," Zero Mostel's "If I Were A Rich Man" and Betty Buckley's showstopping "Memory" from "Cats."
The three hosts will be represented by footage of Lansbury doing "The Worst Pies in London" from "Sweeney Todd," Orbach doing "Lullaby of Broadway" from "42nd Street" and Rivera teaming with Gwen Verdon for "Chicago's" "All That Jazz."
As the Tony folks have always been very protective about the past broadcasts, much of the footage being presented hasn't been seen since it originally aired during the live awards ceremonies (from 1967 to 1986).
Musical theatre fans should keep their fingers crossed that this is the first of many Tony compilations. It would be great to see such great moments as the "I Hope I Get It" opening from "A Chorus Line," Lauren Bacall's "Welcome To The Theatre" from "Applause" and Katharine Hepburn's "Always Mademoiselle" from "Coco."
For more info, check out the Tony Awards web site at www.tonys.org.
-- OnStage Boston
7/25/03