"Very Good Eddie" at Goodspeed Opera
The season at Goodspeed Opera House in East Haddam, CT, continues with "Very Good Eddie" through October 4.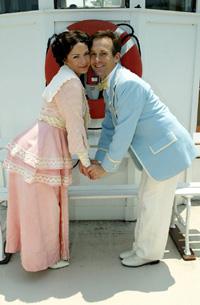 Goodspeed is bringing back its 1975 hit for its 40th anniversary season. Chaos ensues when two honeymooning couples cross paths and trade partners ... accidentally. (Cast members Alison Walla and Randy Rogel are at left.)
The vaudeville adventure continues while the mismatched couples find their way to each other and somehow true love prevails. Featuring the book of Guy Bolton and the bright and lively score ofJerome Kern, "Very Good Eddie" is certain to be a summer-time pleaser.
Additionally, the Goodspeed is offering a series of show-related special events. they include:
Wine Tasting: Sunday, July 13, 5pm.
Treat yourself to a sampling of fine wines hosted by Shore Discount Liquors, Deep River, Conn., hors d'ouevres and an introductory talk by a member of the "Very Good Eddie" creative team. Only $10 with your ticket to the 6:30pm performance. Reserve in advance at the Box Office.
First Friday Happy Hour: July 18, 7pm.
Pre-show happy hour featuring an introductory talk by a member of the creative staff. Free appetizers from La Vita Gustosa, East Haddam, Conn.; and beverages at special prices.
Goodspeed Express: September 7, 14, 21, 28.
Purchase a ticket to any Sunday twilight (6:30pm) performance in September at the Goodspeed Opera House, and for an additional $28 per person (tax included), your package includes a 3pm ride on the Essex Steam Train & Riverboat to the Goodspeed dock, a box dinner on the Goodspeed lawn, and a shuttle bus ride back to Essex immediately following the performance.
$25 for 25 and Under:
Anyone 25 years old and under may purchase a ticket for any Friday performance except opening night for only $25. Valid for new purchases only, subject to availability, and not valid in combination with any other offer.
Backstage at Goodspeed:
An informal post-show discussion with the cast is offered on these Thursday evenings: August 7, September 4, September 18.
Goodspeed Dinners:
Reserve tickets for any Wednesday or Thursday evening performance and enjoy dinner (prior to performance) at a special price. You'll receive vouchers for participating restaurants.
Dedicated to the preservation and advancement of musical theatre, Goodspeed Musicals produces six musicals each season at the Goodspeed Opera House in East Haddam (nestled on the banks of the Connecticut River) and at The Norma Terris Theatre in nearby Chester (opened in 1984 for the development of new musicals).
Several Goodspeed productions have gone on to greater fame. Included among them are "Man of La Mancha," "Shenandoah" and "Annie." In addition to having received two Tony Awards for its contributions to the American musical theatre, Goodspeed also maintains the Library of Musical Theatre.
For tickets to Goodspeed productions, call the box office at 860-873-8668 or check out www.goodspeed.org.
-- OnStage Boston
7/7/03