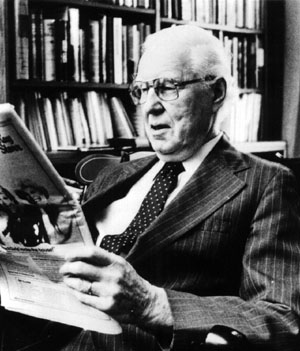 Elliot Norton
1903-2003
A Personal Remembrance
By R. J. Donovan
The death this past weekend of legendary theatre critic Elliot Norton at the age of 100 brought to a close a career that was stellar for its fairness, its intelligence and its insight, not to mention countless contributions to the arts both locally and nationally.
Mr. Norton wrote for several publications over the years (The Boston Post, The Boston Record American and The Boston Herald American) and his opinion was long sought after by both readers and those in the theatre community.
In news accounts printed over the past few days, several artists have recalled how often Mr. Norton's reviews helped their productions during out of town tryouts here in Boston. Neil Simon has long credited Mr. Norton with solving his third act in "The Odd Couple."
Tall and impeccably attired, Mr. Norton was a familiar face at Boston opening nights for almost five decades. And frankly, with his polished dress and very stoic, no-nonsense Brahmin look, he may have appeared to some to be unapproachable. To the contrary, he was warm and available. He also had a sharp sense of humor and a wonderful smile accompanied by a genuine twinkle in his eye.
Even after he retired in 1982, he maintained a presence at just about every opening, purely for the joy of attending the theatre. Although he had spent years of reviewing everything from brilliance to drivel, he never seemed to lose the genuine delight at the prospect of a new production.
His reviews were firm, but, unlike some of his colleagues, never cruel. His opinions were strong, but he clearly substantiated them. You might disagree with him, but you could rarely accuse him of not making an excellent case for what he thought.
Most everyone who's spent a few years in and around Boston theatre has a personal story or two about Mr. Norton. And I'm one of them.
When I was in college, I embarked on a yearlong independent study project concerning criticism in the mass media. One portion of the project involved interviewing local critics in a variety of areas -- film, television and theatre.
As Mr. Norton had spent time teaching at B.U., I thought he might be open to talking to yet another student. I called him directly at the paper and he graciously agreed to meet with me at his office at the Herald a few days later.
Although I had carried a tape recorder with me to all the previous interviews, he immediately told me to turn it off. Not that he did not want to be quoted -- he simply told me if I had any intention of ever being any kind of a writer, I had to learn to take quick, accurate notes. (He was right, but to this day, I wish I had a copy of our conversation on tape.)
We talked about writing, about criticism, about theatre, and I had a rare glimpse into the philosophy of the man who was not only respected but well liked by some of the most important talents in theatre.
I finished the project and subsequently sent Mr. Norton a draft, at his request. In his inimitable style, he followed it up with a personal note -- banged out on what I imagined to be a "murder she wrote" kind of typewriter that positioned the "i's" slightly off kilter from the other letters. His comments were succinct, thoughtful and greatly appreciated by the recipient.
When I was later working in the theatre, our professional paths crossed here and there. In one case I was working with Zero Mostel, who was touring in "Fiddler on the Roof." At that time, Mr. Norton had a weekly WGBH television show called, simply enough, "Elliot Norton Reviews." The format was simple. He would attend an opening, run his review and then immediately invite the cast or star or writer or producer into the Channel 2 studio to discuss the play on the air. Nothing was rehearsed. Nothing was off limits. The TV program was to be an open forum, during which critic and subject could debate the merits or foibles of the project, with the subjects free to criticize the critic. All of this was very civil, however.
Except with Zero Mostel.
Zero Mostel was legendary for being a handful -- gifted and delightfully funny, but a handful. And he turned on the juice full force once we got into the studio and the television taping began. In his unique style, Mostel badgered and argued with Mr. Norton non-stop -- at one point yelling at him to "take off that cheap suit and fight like a man." Norton was helplessly doubled over in laughter -- a stance which his television viewers rarely witnessed. Even his producers in the booth said they had never seen him so uncontrolled -- and so enjoying it.
The half hour show was no doubt far from what Mr. Norton had envisioned. And who knows if Zero just let loose or if he had thought through was he was going to do. But when it was all over, Mostel stood up, solemnly thanked Mr. Norton for inviting him and with a virginal smile and innocent look, exited the studio.
Whenever Mr. Norton and I had a chance to talk, it was always a treat just to listen to him reminisce about the great artists he had seen on stage and the great productions he had attended.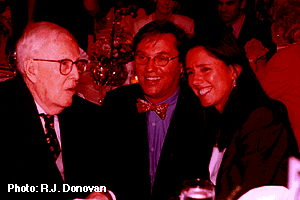 The last time I saw him was at the 1998 Elliot Norton Awards, the annual awards named in his honor to recognize achievement in the Boston theatre community. Having received countless honors from The Tony to the Peabody himself, it was fitting that our local awards should be named for the Boston man commonly known as the "dean of American theatre critics." (Mr. Norton, left, at the 1998 awards dinner with actor Richard Thomas and "Lion King" director Julie Taymor.)
He was seated at the head table (above), and at one point during the ceremonies, everyone at his table had momentarily left. So I hopped out of my seat at an adjacent table and joined him. As it had been quite a while since I had seen him, I reintroduced myself. After chatting a bit, I told him how much I had always appreciated the time he spent with me so many years ago when I was a college student researching the art of criticism.
He locked onto me with that brilliant stare and shook my hand firmly as his mouth curled into a warm smile. The inimitable sparkle appeared in his eye, and he said very simply, "Glad I could be of help."
That easy response modestly summarized so much about him.
-- OnStage Boston
7/22/03