Nathan Lane
Completes Huntington Season
As "Butley"
Nathan Lane, who captured Broadway audiences (along with yet another Tony) in "The Producers" is heading to Boston to star in Simon Gray's "Butley," thereby completing the previously announced 2003-2004 schedule at The Huntington Theatre Company.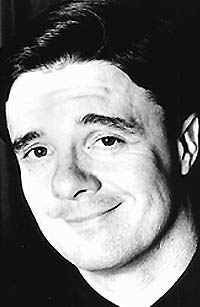 One of the theatre community's most popular talents, Lane will perform the title role in the dark comedy about the unfortunate life of a Literary Professor who suffers the loss of his wife and his lover all in one day.
When Butley's estranged wife Anne announces her intention to marry a mutual friend, and his live-in lover and office mate Joey moves out to join another man, Butley is even more out of sorts than usual. And to top it off, his ill-respected colleague has just published her book on Byron, a task 20 years in the making.
Irascible, brilliant, manic, and above all witty, Ben Butley is one of contemporary theater's great tragicomic roles.
Commenting on the coup of snaring Lane for their new season, Nicholas Martin, the Huntington's Artistic Director, commented, "I am thrilled to have the opportunity to work with Nathan. We've been talking about his performing at the Huntington for some time now. Butley is a role of enormous depth and complexity, and requires an actor of extraordinary power. We are honored that Nathan will be performing it with the Huntington." Martin will direct the production.
Nathan Lane won a Tony, Drama Desk, and Outer Critics Circle Awards for his performance as Max Bialystock on Broadway in "The Producers" in 2001.
Other Broadway credits include "The Man Who Came to Dinner," "A Funny Thing Happened on the Way to the Forum" (Tony, Drama Desk, and Outer Critics Circle Awards), "Love! Valour! Compassion!" (Drama Desk and Outer Critics Circle Award), "Laughter on the 23rd Floor," "Guys and Dolls" (Tony nomination, Drama Desk and Outer Critics Circle Awards), "Present Laughter," "On Borrowed Time," "Merlin," "The Wind in the Willows," "Some Americans Abroad," and the national tour of Neil Simon's "Broadway Bound."
Off Broadway credits include "Lips Together, Teeth Apart;" "The Lisbon Traviata" (Drama Desk and Lucille Lortel Awards); "Bad Habits;" "The Film Society;" "In A Pig's Valise;" "The Common Pursuit;" "She Stoops to Conquer;" "Measure for Measure;" and "Mizlansky/Zilinsky."
His film credits include "Nicholas Nickleby," the voice of Timon in "The Lion King" and "The Lion King II," the voice of Snowbell in "Stuart Little" and "Stuart Little II," "The Mouse Hunt," "Ironweed," "Frankie and Johnny," and "The Birdcage" (Golden Globe nomination, an American Comedy Award, and the Screen Actors Guild Award).
He is currently filming the "Win A Date with Tad Hamilton." Mr. Lane has also received two Daytime Emmy Awards for Outstanding Performer in an Animated Program for his work in Disney's "The Lion King's Timon and Pumbaa," and "Teacher's Pet."
Fans can also catch him on the CBS comedy series "Charlie Lawrence," airing Sunday nights at 8:30 p.m. He will also be seen shortly at Lincoln Center starring in Burt Shevelove's adaptation of Aristophanes' comedy "The Frogs," featuring the music and lyrics of Stephen Sondheim. Susan Stroman, with whom he worked with on "The Producers," will serve as director-choreographer.
For information, call the Huntington at or visit them online at
www.huntingtontheatre.org
To view a listing of the previously announced 2003-2004 Huntington
plays, click here.
-- OnStage Boston
6/25/03