A Review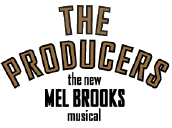 Funny Business
By R. J. Donovan
Everything you've heard is true. And everything you've been promised has been delivered -- and them some.
"The Producers" is as funny, as tuneful, as irreverent, as gag-filled and as delightful an evening in the theatre as Boston has any right to expect.
Mastermind Mel Brooks has taken his 1968 film of the same title and, with book collaborator Thomas Meehan and director-choreographer Susan Stroman, swirled it into an old-fashioned Broadway musical, the likes of which haven't been seen in years -- an actual MUSICAL COMEDY. A show that's truly, outrageously funny. With songs that fill the theatre with screams. With hilarious gimmicks that range from simple sight gags to a "Chorus Line" spoof of Nazis storm troopers goose-stepping in a Busby Berkeley tribute.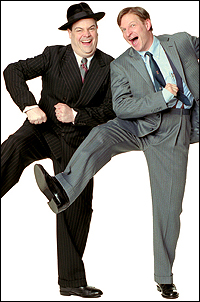 Setting down for a three month run at The Colonial, the Brooks-Meehan-Stroman creation is as bright and as tight and as rich as it was on Broadway. Further, the company is blessed to be led by Brad Oscar (left with Andy Taylor), an expressive fireball of comedic energy who plays scheming Broadway producer Max Bialystock.
A less than A-list guy, Bialystock has made a career of producing shows on the collective bank accounts of little old ladies. Among his questionable credits, he was the first to do summer stock in the winter. And he invented Theater-In-The-Square, where "nobody had a good seat!"
When he hooks up with nebbish accountant Leo Bloom (Andy Taylor), an interesting mathematical reference shows him it would be more profitable to produce a flop than a hit. Simply raise more money than you actually need (in this case millions), and when the show immediately closes, you pocket the surplus and nobody's the wiser. There are no investors to pay off because there's no income.
And so the unlikely duo of Bialystock and Bloom hatch a scheme to intentionally present the worst show in history, directed by the worst director who ever lived, starring the worst actors in New York. All to guarantee a bomb. Their choice? "Springtime For Hitler," a neo-Nazi musical fiasco.
After auditioning the most incompetent actors in town, "Springtime's" own playwright is selected to play the lead role himself. When he breaks his leg on Opening Night, the director, raging queen Roger DeBris, goes on in his place to present a mincing, prancing Adolph. The show is so gaud awful appalling, it's a hit. And instead of basking on the sunny shores of Rio counting their ill gotten loot, Bialystock and Bloom wind up behind bars.
It's a challenge to convey the electricity of what happens on stage because so much of its charm lies in the keen but insane creative touch of Mel Brooks -- who has the characters comment on everything from plot points to stage movement -- and the inspired direction of Susan Stroman, who has snared Brooks' vision to give it her own gleeful visual bounce.
Clearly, the show slams its heel on every toe imaginable in its non-stop slapstick irreverence, from Gays to Jews to Blacks to Germans to the Irish to Chorus Girls to Senior Citizens to Swedes to Blondes to the Blind to Pigeons to the Broadway Musical itself.
Yet none of it is offensive. Quite the opposite -- it's all hilarious. And so seamlessly staged that there's barely time to catch your breath as the unabashed merriment charges on.
Virtually every song in the show (music and lyrics by Brooks) is top-notch, however the best of the best include:
"We Can Do It," a duet that finds Max trying to convince the timid Leo he can leave the dreary world of accounting behind.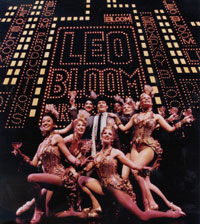 "I Wanna Be A Producer," Leo's tap-dancing, champagne-popping vision of what it would be like to ditch his accountant's visor and head for the bright lights of Broadway.
"Keep It Gay," director Roger DeBris's anthem on how to really sell a show, backed by his staff of Village People wanna-bes.
"Along Came Bialy," a tap number done by horny little old ladies in metal walkers (although they also bounce on trampolines and fly through the air on swings).
And of course, "Springtime For Hitler," the musical within a musical which turns Adolph Hitler into the German Ethel Merman in the most deliciously overblown production number in Broadway history.
Revealing the tender heart behind the baggy pants smile, Brooks has also composed a poignant friendship ballad called "'Til Him" that Leo and Max share near the end of the show. It's a lovely moment.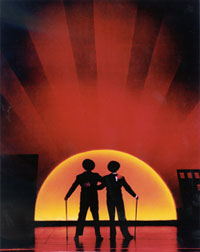 As mentioned above, Brad Oscar is Max Bialystock. A member of the original cast (as Franz), Oscar has been playing Max on Broadway for more than a year and he gives it his all. A combination of Jackie Gleason, Nathan Lane and James Coco, he is the growling backbone of the night. And considering he's on stage for virtually the entire show, he never lets his energy diminish. In fact, his 11 o'clock number, "Betrayed" (which recaps the entire plot to that point) is a show stopping dazzler.
Andy Taylor is the introverted and skittish Leo Bloom. He's a little heavy handed in his emotional breakdown scene but soon settles in to the character who dreams of making it big as a show business ladies man.
Lee Roy Reams, long a favorite of Broadway audiences in everything from "42nd Street" and "Hello, Dolly! to "Applause" and "Beauty & The Beast," is absolutely wonderful as the flamboyant Roger DeBris. He comes close to stealing the show in "Springtime for Hitler," flying all over the place one minute (including having a dance-off with Winston Churchill) and then sitting down on the edge of the stage for a Judy-At-The-Palace moment in the spotlight.
Ida Leigh Curtis is Ulla, the leggy Swedish bombshell who wants a part in the show and ends up with Bloom. She gets to shine in "When You Got It, Flaunt It." Bill Nolte is terrific as Franz, the colorful and ultimately loveable Nazi playwright who allows his "Springtime for Hitler" to be produced. Nolte has two great solos and is especially good in "Haben Sie Gehort Das Deutsche Band." Rich Affannato is appropriately over-the-top as the hissing Carmen Ghia, longtime common law assistant to Debris, and John Boag is the tall and dashing blonde tenor who leads off "Springtime for Hitler" with bell-like Aryan clarity.
Add to all of this the expert contributions of Tony Award winners Robin Wagner (scenery), William Ivey Long (costumes), Peter Kaczorowski (lighting) and Doug Besterman and you've got a winner.
The Opening Night audience at The Colonial got an extra bonus when, during the curtain call, Mel Brooks, Susan Stroman and Thomas Meehan appeared from the wings to be embraced by the kind of tumultuous applause that Boston audiences usually reserve for their own -- which "The Producers" will be for the next three months.
You are heartily encouraged to experience the Tony Award-winning laugh fest for yourself. Just follow the roar of hilarity to The Colonial.
Happily, "The Producers" has put the fun back into musicals.
"The Producers " is is at The Colonial Theatre, 106 Tremont Street in Boston, through September 13. For information, call 617-931-2787.
Production photos: Paul Kolnik
-- OnStage Boston
6/27/03