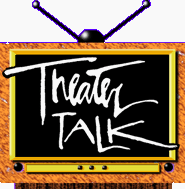 Upcoming Topics
on
"Theater Talk"
By R. J. Donovan
Fans of the New York roundtable show, "Theater Talk," will be interested in a sneak peak at a few of the upcoming broadcasts airing on WGBH's Channel 44.
The weekly series, which has aired on New York City's PBS affiliate Thirteen/WNET since 1996, is hosted by Michael Riedel, Broadway columnist for The New York Post, and executive producer Susan Haskins.
Each half-hour show features in-depth interviews with prominent guests working in all aspects of the theater. After bouncing around on 'GBH's schedule, the always smart and insightful show is currently seen on Sunday afternoons.
Recent shows have featured everyone from Harvey Firestein (talking about a host of topics including his current hit, "Hairspray") to Richard Greenberg, author of the terrific baseball ensemble comedy "Take Me Out," composer Maury Yeston and Stephen Adly Guirgis, author of the new off-Broadway hit, "Our Lady of 121st Street."
Here's what's coming in the next few weeks.
May 25 at 4 PM
Antonio Banderas and Chita Rivera, both Tony nominees this year, discuss appearing in the hot hit Broadway musical revival, "Nine," based on Frederico Fellini's "8 1/2."
June 8 at 3:30 PM
Theater Talk's Annual Tony Predictions Show. Broadway columnists from The New York Times, the New York Post and Show People Magazine give their predictions on who will win the coveted awards, and why. (Note that the Tony Awards ceremonies air later this evening on CBS.)
June 8 at 4 PM
The life of "La Boheme" composer Giacomo Puccini is discussed by his biographer Mary Jane Phillips-Matz. Also, a conversation on the 2003 Tony Award nominations with theater journalists from The New York Times and Playbill.
June 15 at 3:30 PM
Actor Brian Dennehy, currently starring on Broadway in Eugene O'Neill's "Long Day's Journey Into Night," discusses this American classic as well as working with costar Vanessa Redgrave. (Boston fans know that Dennehy was just honored with an Elliot Norton Award.)
June 15 at 4 PM
"Remembering Jule Styne" An encore broadcast profiling the composer of "Gypsy" with Arthur Laurents, Betty Comden and the late Adolph Green.
June 22 at 3 PM
"Drawing The Essence" An interview with the late artist Al Hirschfeld by Pulitzer Prize winning cartoonist Art Spiegelman. (Hirschfeld's 100th birthday is being celebrated posthumously on June 21, 2003.)
June 29 at 3 PM
Playwright/director Paul Alexander and Angelica Torn discuss their collaboration on Alexander's "Edge," a play about the life of poet Sylvia Plath. Also on the program, playwright Jonathan Tolins on his hit comedy, "The Last Sunday in June."
June 29 at 3:30 PM:
Topic to be announced.
As a longtime fan of this show and having written about it on numerous occasions, I encourage you to tune in. (Further, if you enjoy it, call or email WGBH and tell them so.)
You can also check out their web site.
-- OnStage Boston
5/22/03