A Review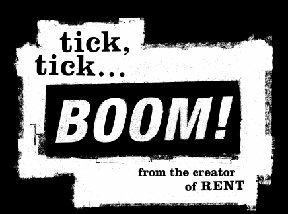 An Artist On The Verge
By R. J. Donovan
The time is 1990, the place is Soho. Jon is struggling to write the great American rock musical. Jon is turning 30 in a week. Jon has watched his friends meet with success while he's still waiting tables. Jon has vowed to have a hit show on Broadway by his third decade. Success is nowhere on the horizon. Jon is anxious.
That's the premise of "tick, tick . . . BOOM!" at The Wilbur through June 8. x
A fresh idea? Not really. Every birthday ending in a "0" gives milestone pause and cause for reevaluation and panic. What draws attention to this autobiographical, three person, 90 minute evening sans intermission is the fact that it was written by Jonathan Larson, composer of "Rent," in his pre-'Rent" days.
Having died at 36 of an aortic aneurysm on the eve of "Rent's" opening, Larson has been romanticized to almost mythical status -- perhaps more because his tragic death cut an aspiring career short than the enormity of the actual work he had produced to that point.
With "Rent" still six years down the road, "tick, tick . . . BOOM!" first saw life as "30/90," a monologue performed by Larson himself. Following Larson's death, playwright David Auburn ("Proof") reshaped the show as a three-character piece and opened it off-Broadway.
During the course of the evening, Jon slaves as a waiter, bemoans the boredom of the 90s, considers selling out for a "real" job in marketing, is dumped by his girlfriend, is taunted by Madison Avenue affluence, has a workshop of his show produced, learns his best friend has contracted AIDS and ultimately receives a phone call from Stephen Sondheim who tells him to keep up the good work.
Cue the birthday cake. Blow out the candles. Smile ruefully. Curtain.
The bittersweet irony is that we all know how the story is going to play out -- in life. The writer who obsessed about time running out had his life snuffed out all too soon.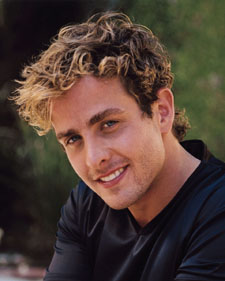 What makes "tick, tick" click at The Wilbur is Joey McIntyre as Jon. The former New Kid on the Block has a warm, affable way about him. And while he may not create fireworks, he's got a strong voice, is completely comfortable on stage and comes off as eminently likable. The fact that he's a Boston boy only adds to the allure, as evidenced by the young female contingent who squealed over his every word.
He's supported by Wilson Cruz ("My So Called Life") and Nicole Ruth Snelson who play his best friend and girlfriend respectively. Cruz and Snelson also play a revolving door of smaller roles. Cruz does a smashing job with his primary character while Snelson is more effective in her secondary roles as a Career Path Marketing Executive and as Jon's elusive agent.
Beginning with the very "Rent"-like "30/90," the 14-song score is highlighted by "Johnny Can't Decide," "Sugar," "Sunday" (a very funny "Sunday In The Park" spoof on the New York Brunch Bunch) and "Louder Than Words," which provides McIntyre with his best moments. One of the star spots in the show should have been Snelson's solo, "Come To Your Senses," but it never came to life.
If you're one of those "Rent" fans who's seen the "Seasons of Love"-fest a million times, you'll probably enjoy "tick, tick." Likewise, if you're a diehard Joey McIntyre fan, you'll walk away smiling.
Either way, the clock is ticking.
"tick, tick . . . BOOM!" is at The Wilbur Theatre, 246 Tremont Street in Boston, through June 8. For information, call 617-931-2787.
NOTE: Seats in the first two rows of the orchestra will be made available for $20 each. These seats are available on the day of performance only, two hours prior to curtain. They are available to ANYONE, cash only, with a limit of 2 tickets per person.
-- OnStage Boston
5/30/03