A Review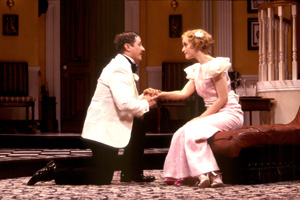 "Springtime for Henry"
At The Huntington Theatre
"Let's Misbehave"
By R. J. Donovan
When Benn Levy's "Springtime for Henry" originally opened in the 30s, it was no doubt termed "a delicious romp." Seven decades later, it's still a tasty if tame British treat, and a very nice way to end the 2002-2003 mainstage season at The Huntington Theatre.
Like Noel Coward, Benn Levy was known for his stylish, urbane comedies. "Springtime for Henry" harkens back to a world of veddy propah attitudes, even if the leading man drinks, gambles and covets the wife of his best friend.
This is a world of "elephantine compliments" where "women must be stolen, not bought" and where "some men are wolves and some men are sheep and there's nothing worse than one masquerading as the other."
Rakish playboy Henry Dewlip runs his father's automobile business in 30s London. However, he rarely goes to the office, leaving commerce to those who know better. He does maintain an office at home, but due to his caddish ways, he has a hard time keeping a secretary.
Things change when Dewlip hires one Miss Smith, who sees it as her personal mission to make him over into a better man. She pretty much succeeds in turning the temperamental blaguard into a gentleman, and Henry, in turn, finds that he is falling in love -- pure love -- with his enchantress. Until he learns Miss Smith is not exactly the righteous angel she pretends to be.
What makes this "delicious" evening so delicious lies with the razor sharp cast of four along with the precise eye and ear of director Nicholas Martin (Huntington's Artistic Director).
As Henry, Christopher Fitzgerald (above with Jessica Stone) has a wonderful sense of physical comedy. No sooner has the curtain risen on James Noone's smart set than Henry dashes in, madly swatting papers in the air and tearing through the phone book.
Fitzgerald does a very slick job of fleshing out the naughtiness even while the man sees nothing wrong with what he's doing -- which includes having an affair with Mrs. Jelliwell, wife of his best friend, Johnny Jelliwell. (Mia Brown, as Mrs. Jelliwell, has a wonderful "telling them all off" speech in the second act which ends both physically and figuratively, with a resounding door slam.)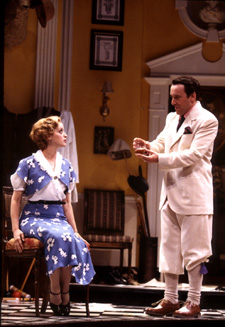 Jeremy Shamos (left with Jessica Stone) is is Johnny, and he, too, spins a sweet characterization of a bobbling Englishman who, even in mid rant, must stop to politely explain exactly why it is that he's so worked up. Shamos' portrayal is gently aided and abetted by the droll knickers created by costume designer Michael Krass.
At the heart of all of this, and the one who really anchors the doings is Jessica Stone as Miss Smith. Providing the wide-eyed reason amidst the madness, she commands attention. She is in charge and she knows it. Even when she must explain her past indiscretions, she does so with a forthright process of rationalization that could easily justify 2 + 2 equaling 5.
Prim, proper and "keen for the decent thing," she is the voice of reason, the keeper of the flame, and the one who must bring reason to the muddle. And despite the sweet, straightlaced demeanor, she is equally adept at delivering the peppery zing that goes straight to the heart of her victim.
(A couple onstage as well as off, Fitzgerald and Smith are both Huntington alumnus. Fitzgerald was seen in "Sons of Ulster" while Smith was in "Betty's Summer Vacation" with Andrea Martin -- who attended the opening night performance with Victor Garber.)
Immensely popular in New England's summer theatres for the two decades following its introduction, "Springtime for Henry" provides a look at a time and a place where a charming British accent could make gambling, drinking and wife swopping seem saucy rather than scandalous.
In a word, delicious.
"Springtime for Henry" is at The Huntington Theatre, 264 Huntington Avenue in Boston through June 15. For information, call 617-266-0800 or log onto www.huntingtontheatre.org.
Production photos by Carol Rosegg
-- OnStageBoston
5/23/03