A Review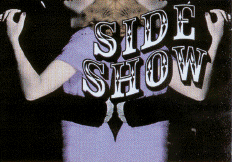 One Though They're Two
By R. J. Donovan
To close its 2002-2003 season, Lyric Stage has undertaken one of its most ambitious projects in recent memory.
The musical "Side Show," playing through May 31, involves a large cast, a trunkful of costumes and some fairly elaborate staging. The end result is a satisfying look at a pair of Siamese Twins who rose from freak show to vaudeville stars, with various bumps along the way.
This marks the first professional production of the show in Boston, following the stunning version Boston Conservatory's Neil Donohue presented at the Emerson Majestic Theatre in 1999.
With music by Henry Krieger ("Dreamgirls") and lyrics by Bill Russell (who once worked as theatre critic at The Boston Phoenix), "Side Show," originally opened in New York during the fall of 1997. Although it did not last the season, the show was nominated for four Tonys including Best Musical and Best Score.
Loosely based on the lives, loves and career of Daisy and Violet Hilton, the show never really found a big enough audience to survive, due in no small part to the unusual subject matter. Conjoined twins do not necessarily scream "let's put on a show in the barn."
Understandably, the producers had a hard time positioning the show (although it developed a cult following of loyalists who returned again and again). Plus, they were fighting for audience attention against several shows that season that were a far flashier sell, including "The Lion King" and "Ragtime."
The show struggled along and took advantage of the Christmas week rush of ticket goers. But in January of 1998, after 31 previews and 91 performances, "Side Show" was history.
The plot is based on two conjoined twins born in England in 1908 to an unwed mother. They were "sold" to an allegedly brutal guardian who forced them onto the stage almost as soon as they could walk. After playing throughout Europe, they came to America, landed in Texas and hit the vaudeville houses.
They supposedly made a tidy sum for all of this, but never saw any of it. Once they were old enough to control their own lives and careers, they performed in the films "Freaks" and "Chained For Life." They also wrote their autobiography, which was sold at performances of "The Hilton Sisters Revue."
They eventually married, although not successfully. When their careers dwindled, the sisters spiraled into poverty. They spent their final days working in a supermarket.
In truth, "Side Show" is never unseeingly nor does it even touch on the uncomfortable. There's also a lot of humor, an entertaining (if not particularly cerebral) score and a resounding Act One curtain closer that just rips your heart out.
At Lyric, director Spiro Veloudos has used his small playing space with economy. To give him an intriguing playing surface, designer Janie E. Howland has fashioned a clever stage floor that incorporates poster images one might see displayed outside a side show. Still, with so many people and so much happening, the picture is sometimes cramped.
The evening begins and ends with the large "every man" company sitting on bleachers facing the audience, which becomes the observed rather than the observer.
As the actors move to take on their roles during "Come Look At The
Freaks," the story unfolds at a side show starring "God's mistakes" -- a bearded lady, a cannibal, a reptile man, monster baby, etc. Among the troupe is a shy pair of Siamese Twins who don't do much more than display themselves for the gawking public.
Talent scout, Terry, and his musician friend, Buddy, come along and see potential with the sisters. Could they be taught to sing and dance? Although one sister wants fame and the other longs for a family, the girls see performing as a way to get beyond the tawdry confines of a barker's pitch.
The sisters soon shine to the new found attention and slowly see they can have a future. They also fall in love with the two men who are helping them to get up and get out.
As the story progresses, they become media darlings, face pseudo-stardom, deal with betrayal and ultimately learn that they can and will rely on each other.
The concept put forth in the first act is that freaks are only freaks when you initially gaze upon them. Beyond their (and our own) eccentricities, people are people. At heart, we all want the same things -- to be accepted and to be loved. Despite the fact that this works, it would work even more dramatically if Lyric's freaks weren't dressed so much like a USO company.
The book falters in the second act, especially when a marriage is supposed to take place. Violet is planning to marry Buddy in a staged spectacle at the Texas Centennial. The marriage is off and on, off and on, and finally off. That's when Daisy corners Terry and decides they should marry. Somebody's got to, the publicity's already out. Then that falls through and the original marriage is back on again. Or is it? Or should it be a double wedding? ( ! ! ! )
At the center of the large cast are the five performers who make the show tick: Maryann Zschau and Susan Malloy as Daisy and Violet, respectively; Christopher Chew as Terry; Peter A. Carey as Buddy; and Brian R. Robinson as Jake, loyal protector from the side show who joins the four on the road.
Zschau and Malloy do their best work with the musical numbers as the book offers minimal character development. Musically, the show has several high spots, including the first act closer, "Who Will Love Me As I Am," which has a button that's chilling. It also serves to close the first half with a question that's ultimately answered by the closer of the second act, "I Will Never Leave You."
Chew is very good in "Private Conversations" and Robinson reveals an emotional secret in "You Should Be Loved." The four leads join for the perilous "Tunnel of Love," although the lighting is a little more ghoulish than was probably intended.
Along the way there are a couple of cute vaudeville numbers including "One Plus One Equals Three" (the two sisters and Buddy) and the Follies flavored "Rare Songbirds on Display," which features the full cast.
For only pennies a peek, you can visit Lyric Stage and look at the freaks through the end of the month.
But bear in mind, they're going to be looking right back.
"Side Show" is at Lyric Stage, 140 Clarendon Street in Boston, through May 31. For information, call 617-437-7172.
-- OnStage Boston
5/1/03