A Review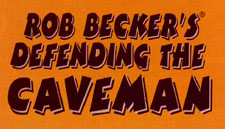 Stone Age Comedy
By R. J. Donovan
In Rob Becker's world of the sexes, there are only Hunters and Gatherers. Doesn't really matter whether you're The Flintstones or J.Lo and Ben.
Becker has hung his pelt at the Wilbur Theatre for the moment with the farewell tour of "Defending The Caveman," his two hour comedic jab at the difference between the genders.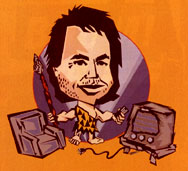 Through laundry habits and driving directions and male bonding and girls playing sports, Becker covers all the bases.
His missiles are ultimately directed at both sexes, with the pointing finger an equal opportunity employer. However, it's all in good fun and the manner in which he jabs his prey is far from threatening. Plus, he's a gentle teddy bear of a guy who's hard not to love.
Becker is on a mission to figure out why men and women are so different. What he learns is that habits learned during prehistoric times have been carried, fast forward, to contemporary life. Men were originally hunters, honing in on one project until completion. Women were gatherers, capturing information, assessing facts, storing data and looking at the bigger picture to prepare for the future.
The problem, says Becker, is that men treat women the way they treat other men. And women treat men the way they treat other women. Both camps wind up frustrated because they've got two completely different ways of doing business.
None of this "Men Are From Mars, Women Are From Venus" stuff is new. But like Bobby Dubac's "Male Intellect," the entertainment value lies in the star's personality and presentation.
More stand-up than theater, "Caveman" first came to Boston in 1997. And while the audience was enjoying itself at the opening night performance, the show has developed a tired, tattered edge. Which may be an indication that Becker's simply been at it too long. So it's just as well that he's reportedly working on a new production.
The show also takes too long getting going. An overly long introductory video followed by an elongated poem delivered in the dark only serves to create a false start before jumping into the action. And when Becker does finally make his appearance, his plodding delivery (which I don't remember being so pronounced during previous visits) takes a good fifteen minutes to warm up to.
So what the bottom line? It's hard to question a product that ranks as the longest running solo show in Broadway history . . . but maybe it's time to let the defense rest. Or at least to allow a new presence to take over the spear and give the current show a much needed shot of adrenaline while Becker moves on to lend his unique perspective to his next monologue.
"Defending The Caveman" is at The Wilbur Theatre, 246 Tremont Street in Boston, through May 18. For information, call 617-931-2787.
-- OnStage Boston
5/2/03