BRAD OSCAR
From Understudy to Star of "The Producers"
By R. J. Donovan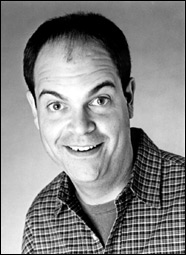 Brad Oscar, co-star of the national company of "The Producers" opening at Boston's Colonial Theatre in June, experienced what's been described by the theater community as "The Cinderella Story" of last year.
(An original member of the "Jekyll & Hyde" company, Oscar is a graduate of Boston University.)
It wasn't that long ago that the actor was working as Santa Claus in Branson, Missouri, with a touring production of Radio City Music Hall's holiday show.
Mel Brooks and company had not yet opened "The Producers" in its out of town Chicago engagement. And they were still looking for a stand-by for Nathan Lane, who would star as Max Bialystock opposite Matthew Broderick as Leo Bloom. Oscar flew in on his day off, auditioned and got the job.
Leaving his red suit and "ho-ho-hos" behind, he joined "The Producers" cast, although the only time he would get to shine would be if Nathan Lane were too ill to go on. (The hand of fate would later play a major part here, as well).
While the musical was still in rehearsals, the actor playing Franz Liebkind, playwright of "The Producers'" show-within-a-show "Springtime For Hitler" ("the worst show of all time") was injured. Brad filled in and wound up playing the role on opening night in Chicago.
It was soon determined that the injured actor would not return to the company and Brad's "temporary" role became permanent. At the same time, he was still standing-by for Nathan Lane.
"The Producers" moved onto New York where the show, of course, took Broadway by storm. It seemed that everyone in the cast was nominated for a Tony, including Brad as Franz (for Best Supporting Actor in a Musical). Nominated in the same category were fellow cast members Gary Beach as cross-dressing Roger DeBris ("the worst director of all time") and Roger Bart as Carmen Ghia (longtime common law assistant to Debris). Beach walked away with the award, but there were still advancements to come for Brad.
Nathan Lane had a rough time vocally as the run wore on. At one point in mid-winter of 2002, it seemed that he was out of the show more than he was in it. And who stepped in to play the lead but Brad.
While audiences may have been disappointed in not seeing Lane, they certainly saw an apt replacement, giving a hilarious performance all his own.
When Lane and Broderick completed their contracts, the leads were re-cast. English actor Henry Goodman was imported to play Max. However, only weeks after he assumed the role, he was suddenly gone. And Brad Oscar was again called upon to play Max . . . and this time, it would be a permanent assignment.
He played the role on Broadway for the next year, completing his New York run
just last month. He now moves into rehearsals with the touring company that's being formed to open in Boston on June 17.
I had the pleasure of seeing Brad and Roger Bart in the show only a few weeks ago in New York, which brings up another interesting side note about "The Producers." In a case of "promoting from within," the casting folks behind the show have found many of their replacements right on stage -- playing other roles.
Tony nominated Roger Bart initially played Carmen Ghia for a year or so and then left to head west and work in a sitcom. Sam Harris ("The Life" & "Grease") became the new Ghia. The sitcom fizzled, so Bart (who has a Tony for his role in "You're In A Good Man Charlie Brown") returned to New York and took over the role of Leo Bloom (originally played by Matthew Broderick). Harris, in turn, left and was replaced by Brad Musgrove (from "Fosse") who was a member of "The Producers" original cast).
Meanwhile, Gary Beach, who has played Roger Debris since the beginning, is leaving the New York company to join the Los Angeles company starring Jason Alexander and Martin Show opening shortly.(This is were you have to pay attention . . . ) Jim Borstelmann took over the role of Franz when Brad moved up to the role of Max permanently. Borstelmann later took over another role in the
show and John Treacy Egan became a terrific Franz. Now that Beach is joining the LA company, Egan will take over Gary Beach's role as Roger DeBris. But Beach will return to Broadway this fall.
Additionally, Lewis J. Stadlen and Don Stephenson, who started out leading the first national tour (which is now setting down in LA with Alexander and Short above the title) will shift to the Broadway production and take over the leads role there -- while Brad Oscar jumps to the company opening in Boston.
Confused. You have every right to be. It seems that once you appear in "The Producers," you're not allowed to leave. It becomes a cottage industry and you just keep taking on new roles or switching companies. And that's probably the way it will be until Mel Brooks finishes the stage version of "Young Frankenstein," and the whole thing (happily) starts all over again.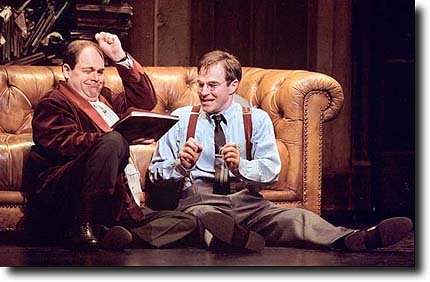 As mentioned above, I had a chance to see Brad Oscar as Max (left) and Roger Bart as Bloom (right) in the show a few weeks ago and they were both in top form. Brad gives a frenetic performance all his own, touched with a hint of Nathan Lane and James Coco.
Bart was wonderful throughout, but literally knocked the audience on its collective butt in a scene that takes place in "the living room of renowned theatrical director Roger Debris' elegant upper East Side townhouse on a sunny Tuesday afternoon in June" (that's exactly how it's described.) His character doesn't necessarily have all that much to say in the scene, but his stage business was a delight. (Bart is leaving the Broadway company on May 18 to do a film with Nicole Kidman -- but who knows, at "The Producers," the stage door always seems to be open.)
Brad Oscar will appear in Boston opposite Andy Taylor ("Titanic" and "Moon Over Buffalo") as Bloom. The company will also include Leroy Reems as DeBris. Reems has been playing DeBris in the current national company, and is well known for his roles in everything from "42nd Street" to "Hello, Dolly!" Ida Leigh Curtis, who's been understudying the role of blonde bombshell Ulla on Broadway, steps up to that role for the national tour.
As if you need more fuel to come see the show, "The Producers" captured a basketful of Tony Awards in 2001 (walking away with the most awards in Broadway history), including Best Musical, Best Book of a Musical, Best Original Score, Best Scenic Design, Best Costume Design, Best Lighting Design, Best Orchestrations, Best Choreography and Best Direction of a Musical.
To quote Mel Brooks, it's good to be king. In Brad Oscar's case, it's been good to be Max.
The Boston run of "The Producers" has been extended to September 13. For information, stop by the box office of The Colonial Theatre or call 617-931-2787.
Production Photo by Paul Kolnik
-- OnStage Boston
5/5/03