A Review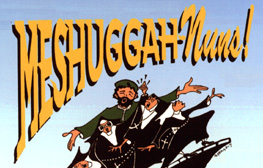 A Hard Habit
By R. J. Donovan
Dan Goggin, creator of "Nunsense," has gone back to the well so many times, it's dry.
Goggin first came up with the idea of nuns in a musical revue in the mid 80s. The show was a hit, so the idea was revisited several times -- from "Nunsense 2: The Second Coming" to "Nunsense 3: The Jamboree" and "Nuncrackers: The Nunsense Christmas Musical." (Indeed, the original show that started it all returns to The Shubert in February starring Kaye Ballard, Mimi Hines and Lee Merriweather, among others.)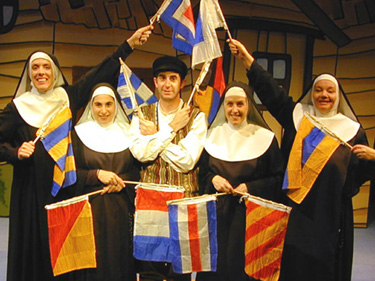 Lyric Stage is presenting Goggin's "Meshuggah-Nuns" through December 27. (The cast, at left, includes Maureen Keiller, Sarah Corey, Frank Gayton, Maryann Zschau and Delina Christie.)
This time around, the merry Sisters are onboard a Faith of All Nations Cruise when the shipboard cast of "Fiddler On The Roof" takes ill. All except leading man Howard. So the ladies in black decide to help out, join Howard (still in his Tevye get-up) and entertain the folks.
Over the course of two acts, the nuns dabble in yiddish, dance a polka, present magic tricks, sing about being fat and drag out a ventriloquism act. The songs aren't particularly engaging and the jokes aren't particularly clever. After all, there are only so many ways you can push the hackneyed "Catholics vs. Jews" joke. And Goggin should be able to come up with something better than musty Mae West references.
The only time "Meshuggah-Nuns" shows any genuine heart is in the second act number "A Love Like This" as Howard (Frank Gayton) and Sister Robert Anne (Maryann Zschau) reminisce about their lives and loves.
Bottom line -- you've got to know when to retire an idea that's adrift.
"Meshuggah-Nuns" is at Lyric Stage, 140 Clarendon Street in Boston through December 27. For information, call 617-437-7172."
Production Photo: Spiro Veloudos
-- OnStage Boston
12/4/03