A Review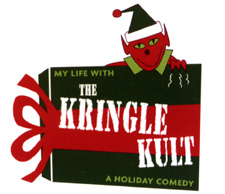 Clap If You Believe in Christmas
By R. J. Donovan
If you're looking for a charming holiday entertainment, you'd best steer clear of "The Kringle Kult." However, if you want an irreverent, laugh-out-loud funny look at what it means to really believe in Santa, then line right up.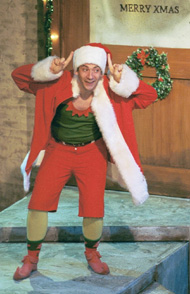 Written by and starring Boston's own theatrical one-man-band, John Kuntz (left), "My Life With The Kringle Kult," is being presented by Boston Theatre Works at the Boston Center For The Arts through December 28.
Kuntz's sharp writing sword has already proven itself in such works as "Party Poopers," "Starfuckers," and "Emerald City" among others. Here, he's set his story among the Elf Kingdom in Santa's Workshop where everyday is Christmas Day, there's no good vs.evil -- only naughty vs. nice and where you could end up with your brain in a pickle jar if you don't "believe."
It's New Elf Day and the audience is included among the elf recruits-to-be. Although no one ever actually sees Santa, the objective is to become totally devoted to the Jolly Old Soul, work hard, be a good little elf, and when you die, you'll get to go to Earth for all eternity. Of course to do this, you've pretty much got to sign your life away.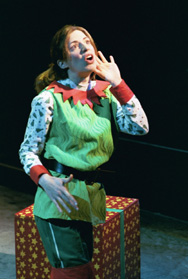 The three character comedy finds Kuntz as Karl, clearly in charge of keeping things humming at the Workshop. Laura Given Napoli (left) plays Twinkle, a dim-witted Assistant Elf whose quirky, perky personality is irresistible.
The conflict comes with the entrance of Rick Park in drag (below left) as the frowsy Baroness Tinsel Von Shatzdoodle, the very mention of whose name comes with sound effects (think Frau Bleucher in "Young Frankenstein").
The duplicitous Baroness is up to no good and wants to trade a sizeable donation for a personal handshake with the guy in Red. We eventually learn the big-boned gal is actually Page Turner, girl reporter out for the inside scoop on Santa. Park is wonderfully expressive as he chews up the scenery.
While Twinkle leads us all to believe Santa's Workshop is Utopia, we soon see it's nothing more than, according to the Baroness, a candy cane encrusted gulag. And when blind faith is questioned, all hell breaks loose.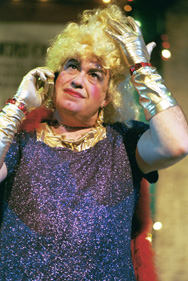 The jokes are fast and funny, the puns bring groaning rolls of laughter and all three actors are a treat to watch as they go through Kuntz's goody bag of tricks likening the Santa experience to organized religion.
Along the way, there's a singalong, pop references galore, a cameo by Elvis and the audience gets brussels sprouts hurled at them.
The intermission-less show drags somewhat three quarters of the way through and there's an alien angle that's a bit of a question, but Kuntz keeps things hopping as the reality of the Kingdom is eventually revealed.
While not a sugar plum vision for the kids, "My Life With The Kringle Kult" is just the thing for a cynical, comical winter's eve. The only thing warm and fuzzy here is the giant ball of lint that talks (oy!).
"My Life With The Kringle Kult" is at Boston Center for the Arts, 539 Tremont Street in Boston, through December 28. For information, call 617-426-2787.
Production Photos: Kippy Goldfarb
-- OnStage Boston
12/4/03