A Review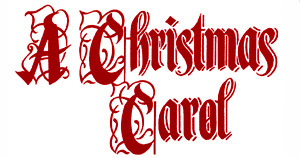 A Dickens Of A Night
By R. J. Donovan
As the audience files into the handsomely refurbished Cutler Majestic Theatre for Trinity Rep's production of "A Christmas Carol," holiday melodies drift through the air like snowflakes in the night. With evergreen wreaths dotting the theater, a show curtain sets the scene by offering a lengthy passage from Dickens' original text.
The houselights dim and a peanut-sized street urchin with a smudged but smiling face steps into the spotlight at stage right to welcome us. He then reaches up, grabs hold of the curtain and with one gigantic rip, sets us off on a journey that mixes Ebenezer Scrooge with The Demon Barber of Fleet Street.

The setting is the establishment of Scrooge & Marley. However it's not a quaint Victorian accounting office with silvery icicles covering quirky window panes. Rather it's an ominous, brooding factory straight out of "Sweeney Todd" (no surprise considering designer Eugene Lee's credits) with catwalks, dark shadows, workers dressed in rags, steam bursting from pipes and in the midst of it all, a malevolent figure pulling the strings -- Ebenezer Scrooge.
Clearly, this is not your father's "Christmas Carol." Instead it's a novel adaptation by Oskar Eustis (Artistic Director at Trinity) with original musical and lyrics by Amanda Dehnert (Associate Artistic Director). And despite a few technical hiccups on opening night, the fresh approach adds a distinctive charm to the time-honored tale.
As Eustis' notes in the program, Dickens' tale of redemption has become an icon of the holiday season. But what it is, exactly, about a bitter old miser that means so much to so many. As Eustis states, the answer lies in the fact that no one seems more beyond salvation than Scrooge. But if he can change, so can we. If he can rediscover what really matters in life, so can we. And so, "A Christmas Carol" gives us hope.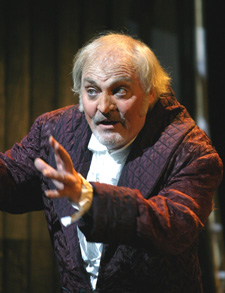 Starring as Scrooge, Stacy Keach (left) cuts an onerous profile. Fitted with a craggy false nose, it takes a moment to realize it's actually him standing there barking out orders to his minions. He sputters, flares and spews fiery wrath at everyone in his path -- including his own flesh and blood. He is most definitely a man in need of an attitude adjustment.
His road to redemption is paved with visits from his ex-business partner, the late Jacob Marley, as well as the Three Ghosts of Christmas -- Past, Present and Future.
Marley, bound in chains, makes his appearance first, bursting from the floor in Scrooge's bedroom in an explosion of light and smoke. He shows Scrooge how his own selfishness on Earth has brought him Hell in the hereafter, but Scrooge gruffly dismisses the apparition as being a result of eating bad gruel before retiring.
And so with reclamation on the agenda, the Ghosts go about their work. The Ghost of Christmas Past transports Scrooge to his boyhood, his employment with Old Fezziwig and a love left behind. The Ghost of Christmas Present gives him a glimpse into the life of Bob Cratchit and his family, who have nothing (thanks to him) yet are rich in ways Scrooge could never fathom. And finally, the Ghost of Christmas Future shows him his own grim fate unless he alters his ways.
Building a completely convincing character, Keach cleverly unveils a Scrooge who's more than just a crusty old coot, especially during the first journey with the Ghost of Christmas Past. When he sees himself as a young man, and sees those who he once loved, his hard exterior dissolves with the memories. Keach subtly shows that the severe exterior has obviously been built over time. And that somewhere deep within, the flicker of a heart does exist -- even if it hasn't been accessed in a long time.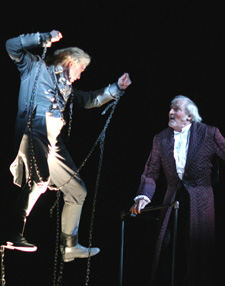 The cast, playing multiple roles, is great throughout. Jon Blackstone is a loving Bob Cratchit, embracing his family with warmth in one sequence, then suffering the loss of Tiny Tim in the next. Timothy Crowe (left with Keach) brings the right touch of horror and anguish to the Ghost of Marley. Trish Aponte floats through Scrooge's memories as the Ghost of Christmas Past. Keith Jochim is as jolly as Mr. Claus himself playing the Ghost of Christmas Present. Andrew Giordano shows us the good that existed in Young Ebenezer. Crystal Lake Evans, who also plays Tiny Tim, gives a new take on The Ghost of Christmas Future. Kent French is Scrooge's tireless nephew, Fred. Keith Jochim returns as a jovial Fezziwig. And Alisa D. Miles shows off her bell-like singing voice in a lovely musical moment as Mrs. Fezziwig.
At evening's end, Keach's tight-fisted Scrooge has melted into kind generosity -- and Christmas comes once more.
What's left so say, except, God Bless Us Everyone.
"A Christmas Carol" is at Cut;er Majestic Theatre, 219 Tremont Street in Boston, through December 27. For information, call 800-233-3123.
Production Photos: Richard Feldman
-- OnStage Boston
12/13/03