Lorraine Bracco Is Mrs. Robinson In
"The Graduate"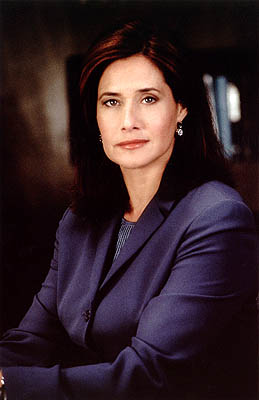 Lorraine Bracco (left), Jonathan C. Kaplan and Devon Sorvani will lead the cast of the national touring production of "The Graduate" coming to The Colonial Theatre from January 27 - February 8. The coming-of-age story about an innocent college grad who is seduced by an older woman originally played The Colonial during its pre-Broadway try-out.
"The Graduate" follows the story of Benjamin Braddock, who, until he helped Mrs. Robinson with her zipper, had a great future ahead of him. The disastrous sexual odyssey was originally the subject of a novel by Charles Webb and then a cult status film starring Dustin Hoffman and Anne Bancroft.
Lorraine Bracco played the pivotal role of the seductive Mrs. Robinson in the Broadway run. Her work as psychiatrist Jennifer Melfi on HBO's "The Sopranos" has earned her multiple Emmy, Golden Globe and Screen Actors Guild Award nominations for Best Actress in a TV Drama. She was also nominated for an Academy Award and Golden Globe for her performance in "Goodfellas," directed by Martin Scorsese.
Taking on the role of Benjamin Braddock is Jonathan C. Kaplan, who was nominated for a 1992 Tony for his role of Jason in "Falsettos." Kaplan returned to the stage in 1998 opposite Natalie Portman in "The Diary of Anne Frank." Devon Sorvari joins the cast as Mrs. Robinson's daughter Elaine.
Tickets are available at the Colonial box office, 106 Boylston Street, or by calling 617-931-2787.
-- OnStage Boston
12/15/03