A Review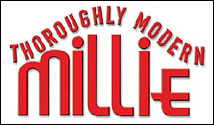 Beat The Drums, Here She Comes
By R. J. Donovan
With a Tony Award for Best Musical under its belt, "Thoroughly Modern Millie" has danced its fluffy jazz-age sweetness into The Wang for a short run through Sunday.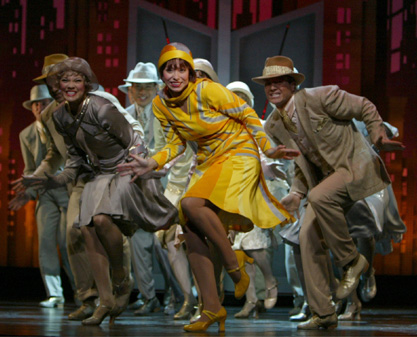 The touring production has been pared down somewhat to accommodate its schedule of short stops on the road, but the basics remain the same. Modeled on the highly successful Julie Andrews film of the same name (although it never captures the same delicious tongue-in-cheek quality), the stage musical has re-cast the central figure as being from the mid-West. And with the exception of two songs, new music has been written by Dick Scanlon and Jeanine Tesori.
Small town Millie Dillmount has left the innocence of Kansas to make it big in the city. She's in search of a husband, via a career. It's the 20's and bands are getting jazzier, cars are getting snazzier, hair is being bobbed and skirts are cut scandalously close to the knee. And Millie's out to get on board with all of it.
She checks into the Hotel Priscilla, a residence for single women, managed by one Mrs. Meers, who, as it turns out, is kidnapping helpless young things and selling them off into white slavery. Gasp!
Millie gets a job working as a stenographer for an eligible bachelor she hopes to turn into a spouse -- Mr. Trevor Graydon. She instantly falls for his dashing good looks, but he doesn't notice anything beyond her adroit shorthand skills.
She also bumps into (literally) Jimmy Smith, an initially annoying young man who ultimately becomes the love of her life. Graydon, meanwhile, is smitten by Millie's rich-but-roughing-it friend, Miss Dorothy.
Through love, deception, mistaken identities and a bit of society hobnobbing, Millie eventually gets her happy ending. Only in New York!
The sets are minimal and if you've seen the original, you'll notice several things that are missing, including the hotel elevator that only functions when the girls dance in it. The other detriment is the sound, which ranges from shrill to muddy.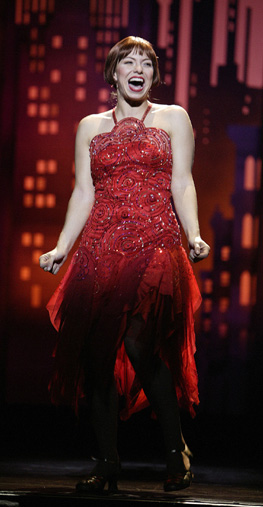 As Millie, big-voiced Darcie Roberts (left) is all thoroughly modern piss and vinegar as she sets her sights on bliss. Roberts is on stage for pretty much the entire show and carries things along nicely.
Matt Cavenaugh, who starred last winter in Broadway's ill-fated musical version of "Urban Cowboy," is cast as handsome boy-next-door Jimmy.
Hollis Resnik is the duplicitous Mrs. Meers. A small-time actress who never found her niche, Meers comes into her own in "They Don't Know," a chronology of her hidden talents.
Diana Kaarina is sweet as the wide-eyed, golden-throated Miss Dorothy, but its Sean Allan Krill as Trevor Graydon who's the gem of the evening. With a Prince Charming veneer, you almost expect to see a twinkle in his teeth when he smiles. He's at top comedic form when he and Miss Dorothy meet for the first time in an "Ah Sweet Mystery Of Life" moment.
The music is all bouncy good fun, but its the title song you'll remember, with the smartly attired cast singing and dancing against the Manhattan skyline. Among the high points -- a snappy tap number where the stenographers never leave their seats; the four principals joining for "I'm Falling In Love With Someone;" Jimmy's jail cell lament, "What Do I Need With Love;" the anti-man anthem, "Forget About The Boy;" and Millie's 11 o'clock solo, "Gimme, Gimme."
Like cotton candy at a country carnival, "Thoroughly Modern Millie" is high sugar content in a crinkly colored wrapper. Nothing wrong with that now and again.
"Thoroughly Modern Millie" is at The Wang Theatre, 270 Tremont Street in Boston, through October 12. For information, call 800-447-7400.
Production Photos: Joan Marcus
-- OnStage Boston
10/09/03