A Review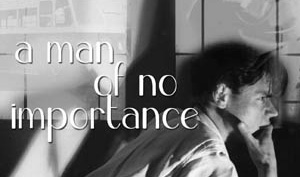 A Tale of Rich Significance
By R. J. Donovan
Alfie Byrne is a man of no importance -- or so it seems.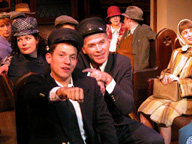 Gentle, humble, middle-aged Alfie is a bus conductor in 1960s Dublin. He lives with his sister, is devoted to art and reads poetry to the folks who ride his bus every day. They, in turn, call out requests like devotees at a literary piano bar. He is especially taken with the work of Oscar Wilde.
Alfie also has a passion for putting on plays with a mismatched crew of the amateur thespians, the St. Imelda's Players, all of whom are absolutely awful. They are all, however, incredably devoted to their art and believe themselves to be extraordinarily gifted.
And just as they all lead double lives, so to speak -- actors who are also butchers, and mothers and painters and so on -- so does Alfie.
The secret he can barely reveal, even to himself, is that he, like Wilde, longs for "the love that dares not speak its name." The object of his innocent but repressed affection is a friend and bus driver who's straight, and who's got his own desires to deal with.
Supported by his friends but boxed in by the personal struggle of dealing with his homosexuality, Alfie runs into trouble when he decides his little theater group will put on Wilde's "Salome" -- complete with the dance of the seven veils plus the head of John the Baptist on a tray -- in the church hall. He's quickly shut down for blasphemy and his group is tossed onto the sidewalk.
And when he finally dredges up enough courage to try and be who he really is, the results are disastrous.
"A Man of No Importance,"currently at Boston Center for the Arts, is a pro-production of SpeakEasy Stage Company and Sugan Theatre Company.
Based on the rarely seen Albert Finney movie of the same name, the show is the creation of Terrence McNally (book), Stephen Flaherty (music) and Lynn Ahrens (lyrics) -- the talented team who gave us "Ragtime."
But while "Ragtime" swept us around the world in a magnificent musical saga that captured "a destiny dawning" and "a century spinning," here the power of the piece comes by capturing the simplicity of a small group of friends whose world doesn't extend much beyond their own backyard.
Told in a flashback, McNally's book is sharp and funny. Flaherty's music at once grasps both the authentic colors of Ireland as well as the universal longings of the heart. And Ahrens' lyrics are smart but deceptively simple, snaring bits and pieces of everyday life to create a vivid picture.
But don't be fooled. The world of "A Man of No Importance" is a rich one.
First staged at Lincoln Center in the fall 2002, the original New York production won the 2002-03 Outer Critics Award for Best Off-Broadway Musical and received seven Drama Desk nominations including one for Best Musical.
The Boston production is directed by Paul Daigneault, SpeakEasy's Artistic Director, with musical direction by Jeanne Munroe and choreography by David Connolly.

Led by Sean McGuirk as Alfie, the strong cast includes Sarah deLima, Dale Place, Carmel O'Reilly, Sara Chase and -- as Alfie's long-suffering sister -- the wonderful Nancy E. Carroll (left with McGuirk), who can convey a comic encyclopedia with one withered look. Kerry Dowling is very funny when she demonstrates how she'd stage the Dance of the Seven Veils as a tap extravaganza. And as Robbie Fay, the object of Alfie's desire, Miguel Cervantes (late of "Bat Boy") delivers another solid performance.
Musically, there's a lot to like, from the comedy of "Going Up," chronicling the excitement of mounting a new show, to the haunting questions of "Man In The Mirror" to the colorful musical images of "The Streets of Dublin." "Love Who You Love" is a telling anthem and the lovely "The Cuddles That Mary Gave" will break your heart as a husband (Billy Meleady) remembers the love of his life.
SpeakEasy and Sugan have shown how successful their combined theatrical vision can be. In the words of "A Man of No Importance," blessed are the poor of imagination, for they shall inherit the cinema. Not so here.
"A Man of No Importance," at Boston Center for the Arts, 539 Tremont Street in Boston, has been extended through November 16. For information, call 617-426-2787.
Production Photos: Eric Levenson
-- OnStage Boston
10/9/03