A Review

Falling In and On Love
By R. J. Donovan
He. She. Them.
Little words.
Little play.
A work light sits center stage when the audience enters The Shubert
Theatre for the new comedy, "He She Them."
When "She" comes out from the wings, she hesitates, moves the light offstage and then thanks us for coming to the theatre to help the couple work out their problems.
After "He" arrives, the two take their places on white high-back stools on either side of the stage. They address the audience directly, as if we were a collective therapist.
She's a married architect. He's a successful developer. They worked together. They fell in love. They had an affair.
Now He wants He and She to become Them, permanently. But She already has a
He, along with a little lowercase she, at home. What's a Her to do?
"He She Them" was written by Irwin M. Heller, a partner in the Business and Finance section of Mintz Levin Cohn Ferris Glovsky and Popeo. He's also a member of the Wang Center's Board of Trustees.
While no new ground is covered, the play is pleasant enough. However, there's no great depth or shading to its story, which is played out in a series of vignette "snapshots" from the relationship. Each mini-scene is preceded by a plaintive saxophone wailing in the darkness.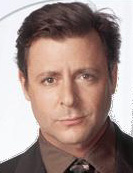 Judd Nelson (left) is He. Tasha Lawrence is She. The two actors work well together and make a believable couple, but the characters lack a searing sense of passion. As their secret affair develops, they seem more like an old married couple. Sure of each other. Familiar. As comfortable as two old slippers under the bed.
Tasha connects more successfully in the segments which have her speaking directly to the audience. Judd Nelson, however, has been guided to deliver nearly every one of his lines in a measured, patient monotone. However gallant and loving his character appears, it comes off as unnatural. He finally has a flash of emotion, but it comes very late in the intermission-less proceedings.
The outcome? She goes back to her husband. He is left alone.
The single bare bulb of the work light is brought back on stage.
The two depart, separately, into the darkness.
Thanks for listening.
The. End.
"He She Them" is at The Shubert Theatre, 265 Tremont Street in Boston, through October 12. For information, call 800-447-7400.
-- OnStage Boston
10/05/03