A Review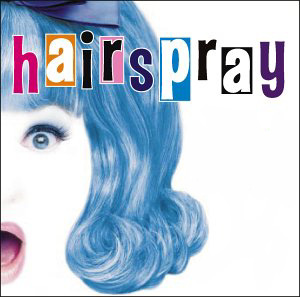 A Big Show With A Lotta Heart
By R. J. Donovan
That fireball of energy glowing in the theatre district is "Hairspray," plugged into the Colonial through November 1.
Boston has seen its share of touring productions, and some of them have been pretty threadbare. But this is the real thing, kids, with sharp production values and a knock-out cast that turns up the excitement level from the first number and just doesn't let up until the well-deserved standing ovation brings down the curtain.
Based on the John Waters cult film of the same name, "Hairspray" is all about the sixties -- in Baltimore. Tracy Turnblad, a big girl with big hair and even bigger dreams, has only one passion -- to dance. And the best place to do that is on "The Corny Collins Show," Baltimore's version of "American Bandstand."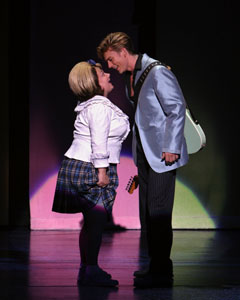 Tracy is not a petite princess like all the other high school girls, but that's not going to stop her. She not only goes on to win a spot for herself on the show, but captures the heart of the Teen Hunk all the other girls are after.
When the Aqua-Net clears, it's suddenly "in" to be plus-sized. And if that's not enough, Tracy teases her tresses all the way to the moon and opens the door for minorities to dance on the show, too. By evening's end, she's righted a few wrongs and even convinced her Mom, another "woman of indeterminate girth," that big can, indeed, be beautiful.
"Hairspray" took New York by storm a year ago this time, receiving rave reviews and ultimately grabbing eight Tony Awards, including the one for Best Musical. Attention was also drawn to the show due to the presence of Harvey Firestein playing Edna, Tracy's Mom (a role played by Divine in the film), and the introduction of Marissa Jaret Winokur to Broadway audiences as Tracy.
The touring company, which has only been on the road for a few weeks, has a few tricks of its own to offer. At the center of the show is a phenomenal 19-year-old firecracker named Carly Jibson (above left) as Tracy. With a stage presence that actors twice her age would envy, she sings great, dances like a dynamo and is as cute as all get out.
Continuing the tradition of having a male actor play Edna is comedian-writer-and-all-round-funny-guy, Bruce Vilanch. Having shaved off his grizzly beard for the role, Vilanch is right at home, zinging one-liners and (on opening night, at least) ad libbing to bring the house down.
With a cracker jack book by Mark O'Donnell and Thomas Meehan, music by Marc Shaiman and lyrics by Scott Wittman and Marc Shaiman, "Hairspray" brings the rock-n-rollin' rhythm and blues of the sixties back to life with style and roaring energy. Delivering more than a dozen musical numbers, the show continually echoes the time without ever becoming repetitive.
The tone is set right at the beginning with Tracy jumping from her bed to sing "Good Morning Baltimore." The winning numbers continue with "Mama I'm A Big Girl Now" and when Tracy accidentally meets Teen Hunk Link Larkin (Austin Miller, above with Jibson), she envisions their entire future in one blink in the hilarious "I Can Hear The Bells."
"Welcome To The Sixties" is great as is the Act One closer, "Big, Blonde and Beautiful," delivered to the rafters with soulful pizazz by Charlotte Crossley as Motormouth Maybelle.
Tracy is not accepted by the cool kids on the "Collins" show and jealousy soon rears its ugly, if perfectly coifed head. She and all her friends wind up in jail in Act Two, which leads off with a comical romp called "The Big Dollhouse."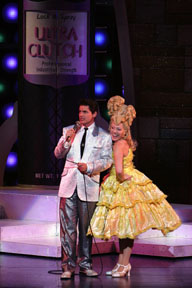 The cast is, without exception, superb. In addition to the folks mentioned above, Susan Cella is Velma Von Tussle, the conniving, hard-as-nails producer of the "Collins" show; Sandra Denise is Penny Pingleton, Tracy's dimwitted but nice best friend; Troy Britton Johnson (at left) is TV host Corny Collins, with a voice that soars like silver on the high notes; Jordan Ballard (left with Johnson) is spoiled brat Amber Von Tussle; and Terron Brooks is fancy-footed Seaweed J. Stubbs (who knocks them dead with "Run and Tell That").
Todd Susman is Wilbur, Tracy's nicely understated Dad who owns the local joke shop, Har De Har Hut. As the old married couple, Susman and Vilanch have a delicious "Timeless To Me" duet in Act Two.
And from the standpoint of making a huge impression with the audience in the shortest amount of stage time, special bravos go to Joanna Glushak, who plays multiple roles in the show. She spends most of her time on stage as Prudy Pingleton, Penny's inhibited mother. But in addition to being a member of the nameless "Denizens of Baltimore" ensemble, she has the audience positively howling during her two quick spots as a cruel prison matron and a particularly brutal gym teacher.
The guy who's pulling all the strings is director Jack O'Brien, a veteran of everything from "The Full Monty" and "Damn Yankees" to "Imaginary Friends." Choreography is by Jerry Mitchell, of "Full Monty" and "Gypsy" fame. Insiders also know that Mitchell is guy who created the annual "Broadway Bares" fundraiser benefiting Broadway Cares / Equity Fights AIDS.
Bottom line, this is one fun show. And despite the awful cliché, people really were dancing in the aisles.
So grab your teasing comb and head towards that big poofy cloud of hairspray emanating from the Colonial.
"Hairspray" is at The Colonial Theatre, 106 Tremont Street in Boston, through November 1. For information, call 617-931-2787.
Discounted tickets for students are available for select performances via the Phoenix/Broadway in Boston Student Rush program. Full time students with a valid student ID will be allowed to purchase one ticket per day, on day of performance, one hour prior to curtain for $25 at the Colonial or Wilbur box offices only. The offer is not valid for Saturday evening performances. As certain performances may be sold out in advance, students should visit www.broadwayinboston.com/studentrush for daily updates on availability.
Production Photos: Paul Kolnik
-- OnStage Boston
10/10/03