A Review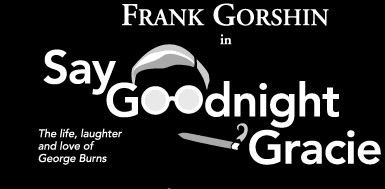 Oh George!
By R. J. Donovan
As Frank Gorshin steps from the mist on the stage of The Wilbur Theatre, the first thing you notice is how much he looks like George Burns. The sports jacket and turtleneck. The gray toupee. The cigar. The trademark owl-shaped glasses.
Once he starts to speak, you're pretty much hooked.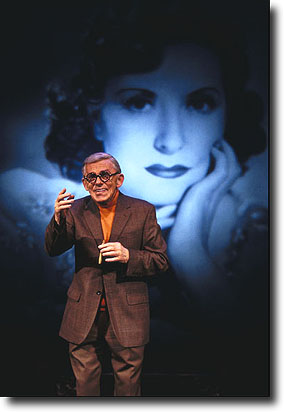 Starring in the one-man show, "Say Goodnight Gracie," written by Rupert Holmes and directed by John Tillinger, Gorshin presents a 90 minute conversational retrospective of Burns' life and career, aided by sound effects, video memories and the off-stage voice of Gracie Allen (provided with startling accuracy by Did Conn).
The framework of the show is that Burns has died. Stuck in limbo, he needs to review his life with the Almighty in order to get through the Pearly Gates and be reunited with Gracie, his partner on stage and in life.
If he does well, he's in. If not, he's doomed to Buffalo.
With all due respect to Buffalo, Gorshin and Burns have nothing to fear. The show is a touching, warmhearted and very funny look at a man who freely admits he made a career out of standing there while his partner delighted audiences with her daffy observations.
Arguably, it takes a lot of smarts to play "dizzy," and Gracie Allen was a pro -- never trying to be funny but always acting as though everything she said made perfect sense -- if only to her.
When they first teamed up, Gracie was the straight man with George delivering the punch lines. However, when George saw the audience killing themselves over whatever Gracie said, he quickly switched their roles -- with delightful results.
And again with all due respect (this time to Burns), he was a talented and wonderfully funny straight man. The Burns and Allen concept of "illogical logic" was actually his creation.
Further, after Gracie retired, George went on to a highly successful solo career in concert, on television and in film. He starred in three "Oh God!" films and picked up an Academy Award for starring opposite Walter Matthau in Neil Simon's "The Sunshine Boys."
Born Nathan Birnbaum in 1896 to poor Jewish immigrants, George lived with his 11 siblings in a tenement on the lower east side of New York City. His neighbors included such then-unknowns as Eddie Cantor, Fanny Brice, Jimmy Durante and The Marx Brothers.
He made money for his family anywhere he could. An enthusiastic entertainer even at the age of 7, he sang on street corners for change. When he quit school to perform on stage, his life became a revolving door of lousy vaudeville acts. While he once worked with a seal, he was usually part of a third rate song and dance team playing second rate theaters. Despite his lack of success, he always worked. And he was always grateful for the opportunity.
His life changed personally and professionally when Gracie entered the picture. The magic that began with their meeting set the duo off on a journey that brought them vaudeville stardom, hit radio appearances, successful films and the longest running comedy show (of its time) on television. Two children, a home in Beverly Hills and George's lifelong friendship with Jack Benny are also part of the story.
It was interesting to note that George's late-in-life film stardom (and that Oscar) came because of his friendship with Benny. Jack had originally been cast to star in "The Sunshine Boys." When he became too ill to do the film, he insisted George get the role.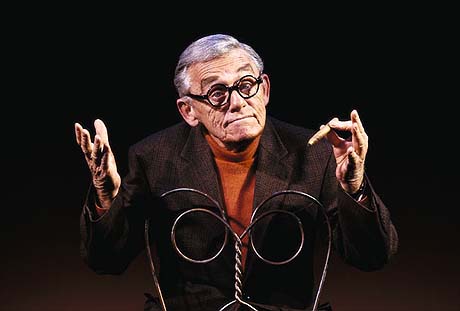 Gorshin captures all of this such clarity that people in the audience were applauding for Burns' accomplishments as though he were actually there. Gorshin himself has had a long career as an actor and comedian, known not only for his days as The Riddler on "Batman," but for his remarkably straight-on impressions of guys like Marlon Brando, Jimmy Cagney and (my own favorite) Kirk Douglas. His recreation of Burns is on the money, right down to the occasional stammer that marked his speech patterns.
Gorshin's stage experience proved more than beneficial on opening night when The Wilbur lost all power on stage, leaving Gorshin without sound, lighting effects or any of the archival video segments that play an important role in the production. He pressed on, in character. But when it appeared the situation was not an easy fix, he took a cue from Burns' film career, stared into the second balcony spotlight and coolly ad-libbed, "What's that God? You want to see me in the wings?" Whereupon he shuffled off stage to assess the situation with the stage manager.
As the audience howled in support, he returned and continued. And in time, the power returned.
Near the end of the evening, Burns claims his only regret was that he died at 100 rather than making it to 103. If he had, he would have been alive in three different centuries.
Thanks to recordings, reruns, books, tapes and film he does. And thanks to Frank Gorshin and the Tony-nominated "Say Goodnight Gracie," he's still around for an affectionate evening of memories.
"Goodnight Gracie " is at The Wilbur Theatre, 246 Tremont Street in Boston, through November 2. For information, call 617-931-2787.
Production photos: Carol Rosegg
-- OnStage Boston
10/24/03