"Follies" In Concert
Hats Off, Here They Come
Len Cariou to Star
Tony-Award winner Len Cariou will be heading to town next month to star as Ben Stone in a benefit production of "Follies In Concert."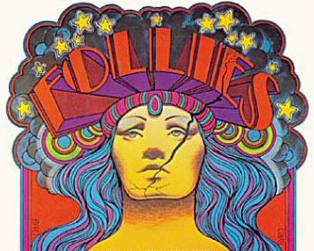 Presented by Overture Productions and featuring a Boston cast, performances are set for November 14, 21 and 22 in John Hancock Hall. This in-concert version of Stephen Sondheim's masterful 1971 stage musical will be performed with a full on-stage orchestra. Proceeds will benefit a number of Boston-based youth arts programs.
No stranger to the work of Stephen Sondheim. Len Cariou created the title role of "Sweeney Todd" (for which he won the 1979 Tony Award) having previously created the role of Frederick in "A Little Night Music." This marks his first appearance in "Follies."
In addition to Cariou, the cast includes an impressive array of some of Boston's favorite actors. Maryann Zschau, Frank Gayton and Leigh Barrett will play the principal roles of Phyllis, Buddy and Sally, respectively. Mary Callanan, Kathy St. George, Bobbie Steinbach and Brad Peloquin will play featured roles. The cast also includes Frank Aronson, Jeanine Belcastro, Stephanie Biernbaum, Rachel Cantor, Caroline DeLima, Kate DeLima, Robert DeVivo, Dan Giles, Liane Grasso, Josh Grisetti, Heather Hannon, Jennifer Huth, Paula Markowicz, Barbara Morash, Drew Poling, Deb Poppel, Brent Reno, Sean Roper and Bill Stambaugh.
With a book by James Goldman, "Follies" is set at a reunion of long-retired
Ziegfield-like showgirls, gathering for a one-night-only reunion at their old theater on the eve of its being demolished. When Sally tries to rekindle past feelings with old flame Ben (who married her best friend, Phyllis), emotions run high.
Ultimately, Sally, Buddy (her husband), Ben and Phyllis break down to acknowledge their own follies and lost dreams. The piece is both an homage to the Follies form of musical theater and a rueful exploration of roads not taken and lives tinged with regret.
With ex-showgirls reprising their original production numbers, the atmosphere is heightened by the presence of the ghosts of everyone's former selves, who sometimes sing, sometimes reenact important events and sometimes cross over to interact with the present.
The score, with both book numbers and pastiche, includes some of Sondheim's best known and best loved creations including "Losing My Mind," "Too Many Mornings," "Broadway Baby," "Beautiful Girls" and "I'm Still Here."
The original Broadway production, which played its out of town try-out engagement at Boston's Colonial Theatre, boasted a cast that included Alexis Smith, Dorothy Collins, Yvonne DeCarlo, Gene Nelson and John McMartin. (Interestingly, Sondheim's pre-Broadway production of "A Little Night Music," with Cariou as mentioned above, also played it's try-out at The Colonial.)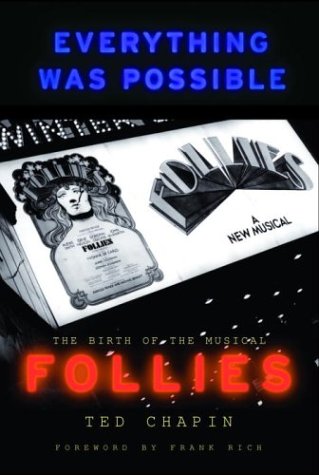 Coincidentally, there's a new book out on the mounting of the original production. Ted Chapin, who is now President of the Rodgers and Hammerstein Organization, was a production assistant on "Follies" in 1971. He was also a college student and, as part of an independent study project, kept a detailed journal of his time spent on the show.
Three decades later, the result is "Everything Was Possible," a chronicle of the show's creation by Stephen Sondheim, James Goldman, director Hal Prince and choreographer Michael Bennett.
In the forward, Frank Rich writes, "If there has ever been an account of the creation of a major Broadway production as complete, candid, and apocrypha-free as this one, I have not found it."
"Follies In Concert" will be directed by Spiro Veloudos, Producing Artistic Director of the Lyric Stage Company of Boston, and Director of the IRNE and Elliot Norton Award winning "Sunday in the Park with George." Musical Director will be Michael Joseph, Artistic and Musical Director at Norwell's Company Theatre.
The show is being produced by Deb Poppel, Vice President of M Products and Marketing at John Hancock Financial; John Hancock will be providing some financial support for the project.
John Hancock Hall is located at 200 Berkeley Street in Boston. Tickets are available at the BOSTIX Booth or by calling Ticketmaster at 617-931-2787.
-- OnStage Boston
10/03/03