A Review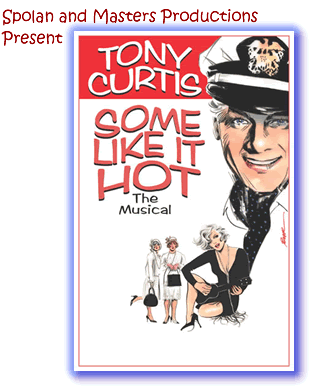 At The Wang Theatre
By R. J. Donovan
When movie legend Tony Curtis makes his initial entrance two blinks before the end of the first act in the musical comedy "Some Like It Hot," he sweeps through French doors like Loretta Young and gives the audience a wry smile.
HE knows he's not a song and dance man. And he knows WE know he's not a song and dance man. So if you're expecting him to be, you're gonna be real unhappy.
"Some Like It Hot" is based on the classic 1959 (non-musical) film of the same name. It was converted into a musical in the seventies under the title "Sugar," with music and lyrics by Broadway veterans Jule Styne and Bob Merrill.
Directed and choreographed by the legendary Gower Champion, "Sugar" played it's pre-Broadway try-out across the street at The Shubert. The current musical at The Wang through January 19 is pretty much identical in content to that show, with the exception of: an interpolated "I Fall In Love Too Easily" as a solo for Curtis (which he speak/sings); "People In My Life" (which I don't remember from the original); and the a absence of "What Do You Give To A Man Who's Had Everything."
As in the film, the story focuses on two musicians, Jerry and Joe, who accidentally witness a gangster massacre in Chicago on Valentine's Day. To avoid being rubbed out themselves, they masquerade as women (Daphne and Josephine) and head to Florida with an all-girl orchestra.
Joe/Josephine falls in love with Sugar, the band's sexy vocalist, but can't divulge his feelings without blowing his cover. Jerry/Daphne turns the head of Fielding Osgood III (Curtis), an often-married and equally-often-divorced millionaire who won't take no for an answer.
Under the adroit guidance of Billy Wilder, the original film has charmed audiences for decades. Given the artful hand of Gower Champion, "Sugar" was a snappy powerhouse starring Robert Morse, Tony Roberts and Elaine Joyce. With Dan Siretta re-creating Champion's work, the current stage version at The Wang Theatre is pleasant enough but doesn't thrill.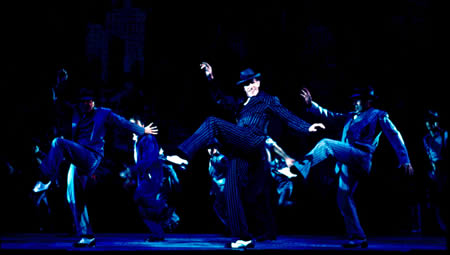 Is it poorly presented or amateurly cast? Not at all. It's got tap dancing gangsters, a great chorus of singers and dancers and a couple of peppy musical numbers (including "Tear The Town Apart"). As Jerry/Daphne, Timothy Gulan delivers a nice performance that blossoms comically when he finds himself actually falling for Osgood. Jodi Carmeli shows off a powerful belting voice in the role of Sugar and a talk drink of water named William Ryall (above) taps up a storm as Spats, the mob boss.
At the same time, Peter Stone's book sounds dated and the show could use some masterful major name charisma from the two leads. It ultimately lacks the consistent sizzle to carry you through almost three hours in the theater.
And where does Mr. Curtis fit into all of this (other than above the title in all the ads)? Well, he and Jack Lemmon starred in the original film as the musicians on the lam. (Marilyn Monroe was Sugar.) Forty or so years later, Curtis plays the smitten Osgood, a far smaller role to be sure -- hence his late entrance at the end of the Act One. In all fairness, he has clearly mentioned in all advance publicity that his total time onstage amounts to about 20 minutes.
Anyway, he's the connection to the original that the producers apparently hope will draw you to the box office. Whether it will or not is debatable. With a diverse selection of shows, big and small, to choose from this month and next, theatre-goer dollars will only stretch so far.
And with the current economy, the average theater fan is going to spend carefully while harboring high expectations for what they'll be seeing on stage.
Bottom line? A show can't be hot in title alone.
"Some Like It Hot" is at The Wang Theatre, 270 Tremont Street in Boston. For information, call 800-447-7400.
Production photo by Carol Rosseg
-- OnStageBoston
1/16/03