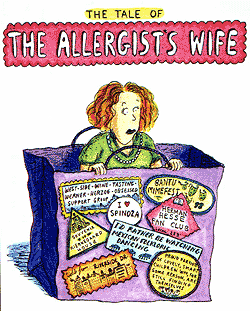 A Review
"Tale of The Allergist's Wife"
At The Wilbur Theatre
By R. J. Donovan
It's ironic that as all four major downtown theaters are alive for the holidays, two beloved sitcom stars are playing on stages across the street from each other. At The Shubert is Bronson Pinchot in "Stones In His Pockets," while the Wilbur is currently home to Valerie Harper in "The Tale of the Allergist's Wife."
It is further ironic that while the two very different shows are entertaining, neither really bursts into bloom in the way you might expect. Kind of like a beautiful flower that's been placed too close to a chilly window. The bloom tries and tries, but never really grows plump with life. It's enjoyable to witness but it's not really had the chance to completely fulfill its cycle.
The best thing about "Tale of the Allergist's Wife" is Valerie Harper. She's the focus of the show, and rightly so. Warmly remembered for her tenure as Rhoda Morgenstern, the Emmy Award-winning Harper is like the close friend you remember warmly from your past. Warm, funny, reliable and a welcome sight.
Following snippets of John Williams' score for "The Witches of Eastwick," we meet the self-obsessed Marjorie Taub, played by Harper. Marjorie is slowly returning from a mid-life crisis, a deep depression and a possible suicide attempt. She spends her days lying in a dark apartment, her hair tugged into messy knots and prostate in her nightgown and rumpled robe. (At the death of her therapist, she went a little off the deep end and wound up having an "episode" in the Disney Store, smashing quite a few collectibles.)
At heart, she's a voracious reader, donates to all the right causes and fancies herself an Upper West Side intellectual. She lives in a great apartment and has a loving marriage to Ira, a retired allergist who now cures sinus headaches for the homeless. But something's not quite right.
In walks a mysterious stranger who, coincidentally, turns out to be a friend from Marjorie's past. The glamorous Lee Green is everything Marjorie (at the moment) is not. She's stylish, well-traveled and bursting with life. She also drops names so fast you've got to watch where you step. She's been buds with everyone from Princess Diana and Lenny Bruce to Henry Kissinger, she toured China with Pat Nixon, personally helped knock down the Berlin Wall and taught Andy Warhol a thing or two about art.
She rejuvenates Marjorie in an almost miraculous manner. Funny thing is, as their friendship galvanizes and Lee jump-starts Marjorie back to the fast-paced land of the living, we begin to question whether Lee is real or just a figment of Marjorie's neurotic imagination.
The glittering Lee eventually takes over, moving in to the Taub apartment, running up long distance phone calls, cheating Marjorie's mother out of $5000 and seducing both Marjorie and the good doctor in a menage a trois. By the time the houselights dim, everyone is back where they should be (despite a few unanswered questions).
Leading the cast, Valerie Harper creates a believable, very funny and ultimately sympathetic Marjorie. In less capable hands, the character might descend into an unconvincing harpy. However, Harper's proficient abilities keep you curious as towhere it's all going. She's also not afraid not to look like a frump at the top of the show --which makes her transformation into a stylish New Yorker pop visually.
As Ira, Mike Burstyn (who we saw in Boston in "Jolson") is a lovable husband if a bit absent from his wife's crisis. Jana Robbins is the fetching Lee and she paints a vivid picture of the world wander who just loves celebrating herself. Initially drawing them all in with her enticing tales, Robbins slowly drops the Best Gal Pal mask to reveal the Black Widow temptress who can't be controlled.
Sonda James is Marjorie's long suffering shrew of a mother. She and Marjorie compete for "Victim of the Year Award." (Her overwhelming obsession with her own bowel movements grows weary). Anil Kumar rounds out the cast as Mohammed the Doorman. Despite all the time the other players spend on stage, it's the very likable Mohammed who (conveniently?) brings in a few pivotal plot points.
Playwright Charles Busch is renowned for such outrageous and campy shows as "Psycho Beach Party," "Die Mommy Die" and "Vampire Lesbians of Sodom." Here he's written a more conventional comedy, very New York, bursting with literary references. But the story is serviceable at best. Funny, yes. Presented with style, yes. However, there's not a lot of shading.
It's not surprising to learn that the play started out as a six minute sketch. In expanding the story to a full evening, Busch seems to think that simply dumping conflict upon conflict is, in itself, enough to satisfy the audience. The problem is that the roller coaster just sort of evens off without cresting the top of the hill.
In the end, the ride is enjoyable. It just doesn't provide the heartpounding rush it should.
A co-presentation of Broadway in Boston and the Huntington Theatre Company, "Tale of the Allergist's Wife" is at The Wilbur Theatre, 246 Tremont Street in Boston, through January 12. For information, call 617-931-2787.
-- OnStage Boston
12/06/02